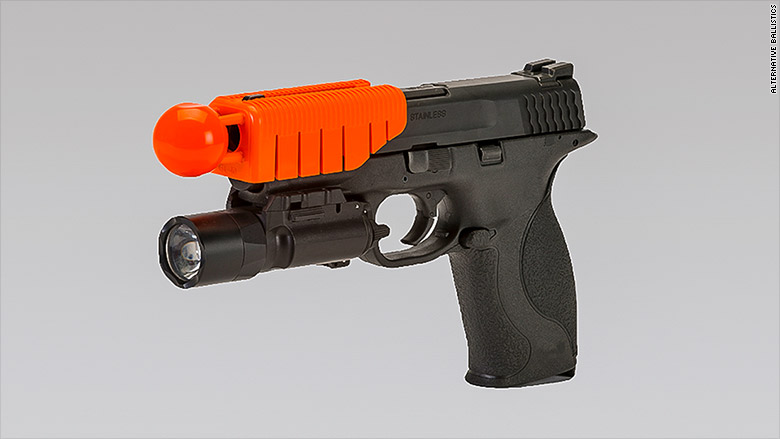 Under fire for fatally shooting an unarmed black teenager last year, the Ferguson Police Department in Missouri is currently testing a "less lethal" option for its sidearms.
It consists of a small ball-like device that is clipped on at the end of a gun. When fired, the bullet embeds itself into the ball as it hurtles towards the target, who can be knocked down from the force. But, more importantly, the person probably won't get killed.
"It's going to feel like you're getting punched in the chest by Barry Bonds," said Christian Ellis, founder and CEO of Alternative Ballistics, which makes the device. "It's going to break some ribs."
At least five police officers on Thursday were working with executives from Alternative Ballistics.
Related: What it pays to be a cop
The company said the device -- called The Alternative -- slows down and lessens some of the impact of a bullet.
Made of a metal alloy, it "works like an air bag for a bullet, knocking the suspect down delivering an immense amount [of] pain while lessening the lethal potential of the bullet," according to the description on the company's web site.
Ferguson, along with law enforcement agencies around the country, are under a lot of pressure to consider less lethal force.
The Ferguson teenager's death plunged the city into riots and sparked a nationwide debate on excessive force used by the police and whether that was leading to unnecessary deaths.
Related: Ferguson bakery raised funds to repair damage from looting
"The City of Ferguson is in the process of seeking various alternatives for its Police Department to use less lethal force in certain instances to fight crime," said the Ferguson Police Department, in an email to CNNMoney.
While the Ferguson police is considering The Alternative as a viable option, it has not yet decided on whether it was going to adopt it.