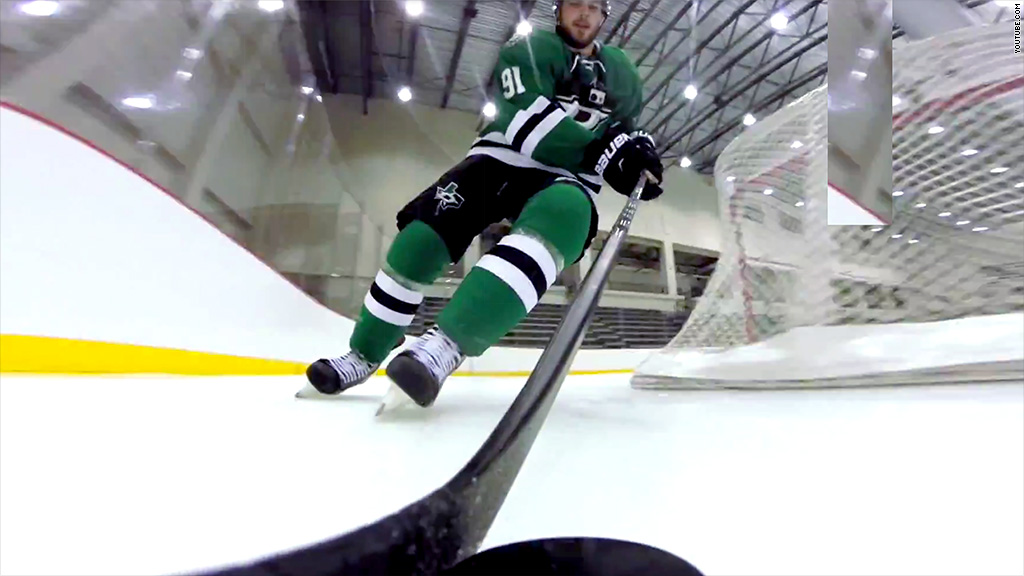 Wall Street is ending its love affair with GoPro just before Valentine's Day.
GoPro (GPRO) shares plunged more than 10% Friday after the company issued a less-than-stellar outlook for the first quarter and announced the surprise departure of its chief operating officer.
The wearable camera company went public last summer and quickly wowed Wall Street. Shares surged more than 30% on their first day of trading in late June and kept climbing higher.
At one point in October, shares were trading at nearly $100 -- a more than 300% spike from its IPO price of $24.
But the stock has lost a lot of momentum since then. It's now trading below $50.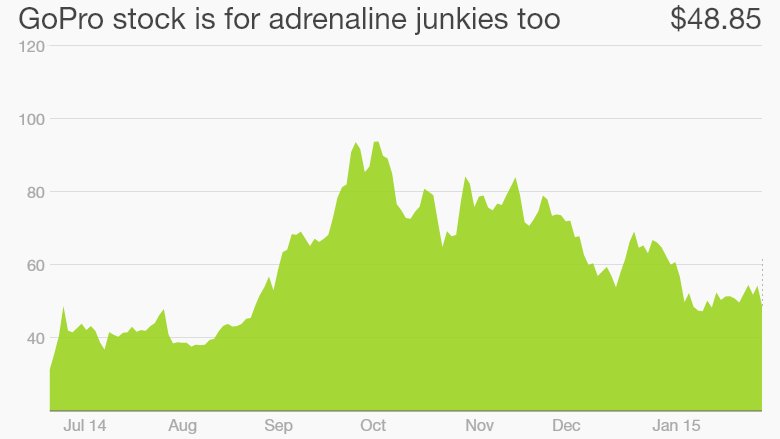 Questions about whether GoPro stock had risen too far too fast started to circulate even before the latest earnings report and executive shakeup.
Related: GoPro had one of the coolest gadgets of 2014
Still too expensive? The stock trades at more than 40 times 2015 earnings estimates, a very rich price -- especially for a company that critics view as a fad.
"Rubik's cube and Cabbage Patch Kids had huge Christmas sales once too," wrote GamindeMedellin, a trader on StockTwits.
There is growing competition. Although GoPro is clearly the leader in the wearable camera market, Sony (SNE) debuted the Action Cam FDR-X1000V at the CES show in Las Vegas last month. Some have dubbed that a GoPro killer.
Polaroid (yes, it still exists) has a new product called the Cube. It's a smaller and cheaper action camera alternative to GoPro's Hero line of products.
And then there's Apple (AAPL). It was granted a patent last month for a camera that's similar to what GoPro makes. GoPro shares plummeted 12% the day the patent was awarded.
"Soon everyone will be making similar cameras. Can't see this stock surviving," said trader AppleJacks on StockTwits.
Related: NHL partners with GoPro for on-ice action
CEO Nick Woodman did not refer to any new competitors by name during a conference call with analysts. But he continued to stress how the company is a "movement." It sounds almost cult-like.
"As the GoPro movement grows and consumers increasingly associate GoPro with highly engaging content, we're seeing other brands and businesses leverage the movement to their own benefit," he said. "This movement represents a tangible competitive advantage. It virally expands awareness and enthusiasm for our brand while defending our position against potential competitors."
Woodman referred to the Weather Channel recently asking viewers to submit snowstorm footage shot on GoPro cameras. He also said that recent deals with the NHL and ESPN to show live GoPro footage from athletes was also a "huge success."
The NHL put cameras on hockey players during its recent All-Star Weekend festivities while Disney's ESPN used GoPros during its Winter X Games.
Related: Apple patents sports camera, GoPro tanks
Sales still strong: The good news for GoPro is that it had a great holiday quarter. Revenue rose 75%. Woodman touted that the company sold 1,000 cameras an hour on average. And profits nearly quadrupled.
But given the concerns about competition, it's understandable that investors are nervous about the year ahead.
During the conference call, GoPro chief financial officer Jack Lazar said that it expected earnings of 15 cents to 17 cents a share for the first quarter. Wall Street was expecting a profit of 17 cents.
That may not seem like that big of a disappointment. What's more, the company is forecasting revenue of between $330 million and $340 million in the quarter -- ahead of analysts' consensus estimates of $325 million.
Related: GoPro CEO angers investors with charity gift of stock
Still, investors often dump momentum stocks when there is just a slight whiff of something going wrong. It's all relative.
Several analysts cut their price targets for the stock on Friday. And the decision by COO Nina Richardson to leave the company at the end of the month is a bit unsettling too.
Richardson has been GoPro's COO since February 2013. She was on the analyst conference call Thursday, but neither she nor Woodman elaborated on why she is stepping down.
GoPro enthusiasts often film themselves falling from great heights. Now the stock price is doing the same thing.
Have investing questions? What 's the one thing you've been most confused about?