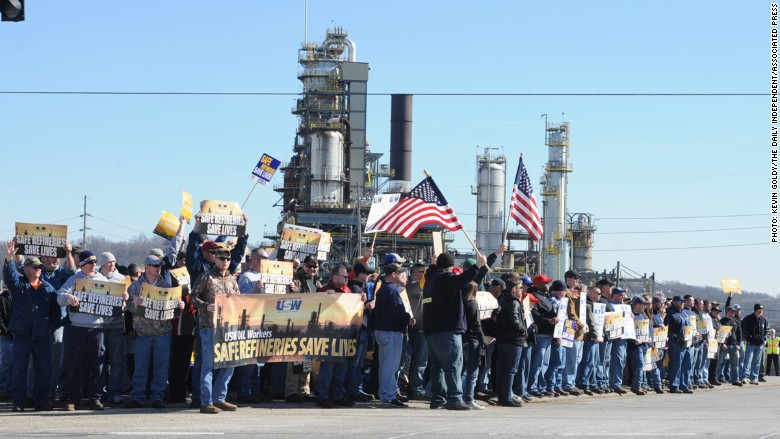 The week-long strike of 3,800 U.S. oil workers is growing larger.
Union officials said another 1,400 workers at two BP-owned refineries joined the strike on Sunday. It's the industry's first large-scale walkout in 35 years.
One of the two facilities is BP's largest in the world -- its Whiting, Indiana refinery, which the company says handles up to 428,000 barrels of crude oil daily. The other is BP's plant in Toledo, Ohio.
Now, United Steelworkers union members at 11 plants are off the job protesting what they say are unsafe conditions. The other nine facilities are in Texas, California, Kentucky and Washington.
Three days into the strike, negotiators from the oil companies returned to the bargaining table with union officials to negotiate the nationwide contract.
The national contract covers 65 facilities, about 30,000 workers and two-thirds of the nation's oil. It expired on February 1.
Union officials have said they're not protesting wages, but instead say their members are overworked, facilities are understaffed and management is relying too heavily on unskilled contractors. The union also protested "threats issued to workers if they joined the (labor) strike."
Shell (RDSA), which is taking a lead role for the companies in the labor talks, said it is "committed to providing competitive pay and benefits to our employees."
"We regret that we have been unable to reach a mutually satisfactory agreement with USW prior to contract expiration," Shell spokesman Ray Fisher said several days ago. "We remain committed to resolving the remaining issues and are confident that we can do so. We appreciate the USW keeping our employees working by using rolling extensions at the majority of our sites as we continue discussions."
BP (BP) said it is staffing its two affected facilities "with replacement workers comprised primarily of current and former BP employees who have been trained to the same legally required and BP-mandated standards as regular workers."
Most of the refineries at issue remain open, though Tesoro said its refinery in Martinez, California that had been operating at half-capacity due to maintenance has been idled because of the strike.
Because the facilities can continue to operate like this for months, experts predicted the strike would have little impact on what drivers pay for gas.