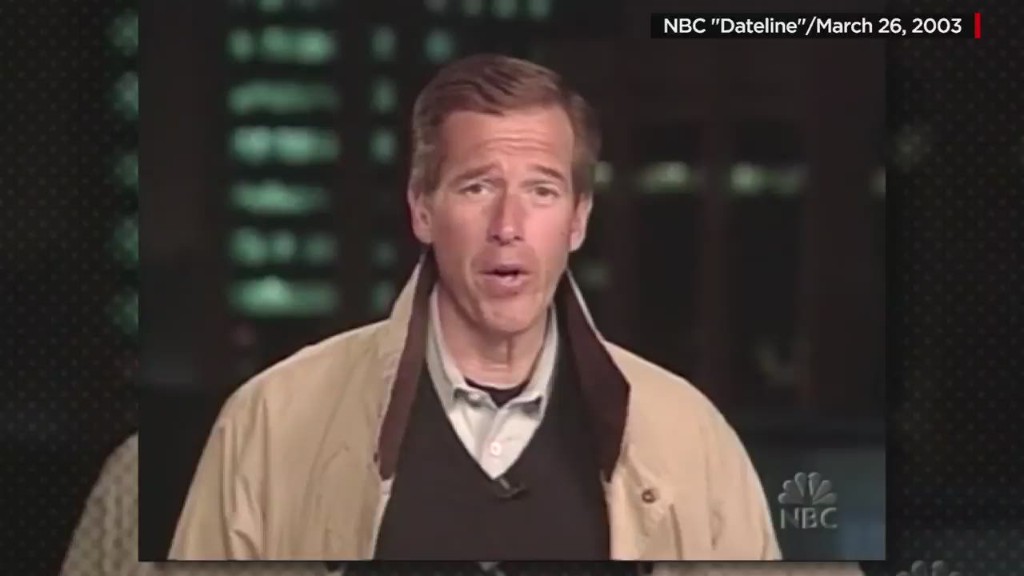 Not even a week ago, Brian Williams was forced to apologize on air for a story he's told for years about a close-call on a helicopter mission in Iraq. And already the controversy has spawned dozens of questions.
How did Williams' Iraq story evolve over the years? Did he make misleading claims about other reporting assignments? And what is his status as the anchor and face of NBC News?
Here's where the story stands.
Anchor's future up in the air: Williams said Saturday that he's removing himself from "NBC Nightly News" for "the next several days." When -- or if -- he will return to the anchor chair remains uncertain, though Williams said he intends to do so. The embattled anchor canceled an appearance on the "Late Show with David Letterman" scheduled for this Thursday.
Williams chose to 'bench himself': An NBC executive told CNNMoney that the anchor's decision to step aside was his own -- to "bench himself" -- and the network did not force him to the sideline.
'Dateline' anchor to fill in: Lester Holt, the anchor of NBC's "Dateline" who already serves as weekend anchor of "Nightly News," will assume the anchor chair in Williams' absence.
A shifting account: The first domino of the scandal fell last Wednesday, when Williams apologized for telling an erroneous account of a 2003 helicopter mission during the U.S. invasion of Iraq. Williams' version of events has shifted over the years. Initially, he told the story accurately: A Chinook helicopter traveling some time ahead of his was hit by a rocket-propelled grenade, but he did not witness the attack. That account grew increasingly ambiguous, and eventually Williams began to claim that he was aboard the attacked chopper.
Defenders in television: Former CBS News anchor Dan Rather vouched for Williams' character, calling the embattled anchor "an honest, decent man, an excellent reporter and anchor." Fox News host Megyn Kelly said it "seems like [Williams] made an honest mistake." MSNBC host Joe Scarborough stood up for Williams on Monday morning. "We all make bad mistakes," Scarborough said.
What Brokaw didn't say: Perhaps the most notable response has come from Williams' predecessor, former "Nightly News" anchor Tom Brokaw. Brokaw denied a report last week indicating that he had called for Williams to be fired. But unlike Rather, Brokaw didn't give Williams much of an endorsement. "His future is up to Brian and the executives of NBC News," Brokaw said.
New questions over other reporting: Journalists are now placing some of Williams' other assignments under a microscope. There are questions swirling about his accounts from the aftermath of Hurricane Katrina, centered around his claims to have witnessed a suicide inside the Superdome and a dead body float by his hotel in New Orleans. On Sunday, the Washington Post reported that Williams has given different accounts from his reporting on the 2006 Israel-Hezbollah war.
NBC's inquiry: NBC News president Deborah Turness said the network has a "team dedicated to gathering the facts to help us make sense of all that has transpired." The man leading that internal investigation is Richard Esposito, the senior executive producer of NBC's investigative unit. Esposito's probe will look into both the recanted Iraq story and Williams' claims about post-Katrina New Orleans.