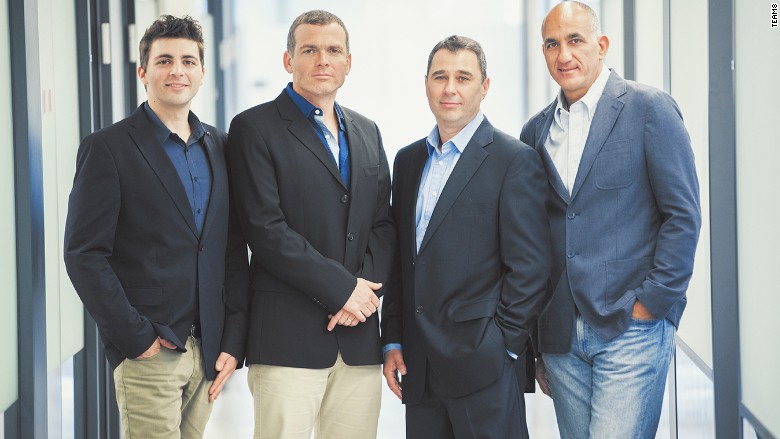 What's it going to take to outsmart cybercriminals?
According to Nadav Zafrir, a former commander at Israeli Defense Force's esteemed intelligence unit 8200: "We need a new formula."
After all, 2014 was bookended with major security breeches: from Target to Sony. So, it's clear that the current defense against cyberattacks isn't enough.
"There's no way we're going to tackle this huge problem based on traditional systematic approaches," said the 45-year old Zafrir.
Enter Team8, a cybersecurity company launched by Zafrir (who was discharged from IDF 18 months ago after 25 years of service), along with former head of 8200's cyber division Israel Grimberg and entrepreneur Liran Grinberg.
Team8 operates as a "think tank." It first identifies global cybersecurity issues with a cyber research team, which zeroes in on gaps in security that are putting companies and people at risk. They tap veteran cybersecurity experts and hackers for help.
Related: 10 worst hacks of all time
Then, Team8 assembles a team of "founders" to work on that particular problem, like a startup. The startups won't have to worry about raising money -- Team8 will fund the first two rounds for startups (equivalent to the seed and A rounds, which Zafrir said may total about $10 million but will vary by startup). Teams will work out of a shared workspace in Team8's headquarters in Tel Aviv.
"We're building the company with them," said Zafrir.
It's an innovative approach that investors find promising. Team8 has captured $18 million in funding from Innovation Endeavors (where Google executive chairman Eric Schmidt is a founding partner), Bessemer Venture Partners, Cisco Investments, and Alcatel-Lucent.
Dror Berman, who co-founded Innovation Endeavors with Schmidt in 2010, notes that cybersecurity startups have long been popping up in Israel. But understanding the cyber security challenges -- and then ultimately getting attention from investors in the U.S. marketplace has proven challenging.'
Related: Geolocate your keys -- or your cat
American investors might be interested in Team8's unique approach, though.
"[They're] doing their homework upfront and evaluating where some of the biggest opportunities are," he said, noting that they're hereby reducing, if not eliminating, market risk.
"It's a very different process, they invest the resources up front," he added. "They're taking the product to market much more quickly."
Plus, it's more bang for investors' bucks. Team8 isn't just creating one solution -- but rather create many businesses that help the world from a cyber security perspective.
Team8 is already working with its first two companies. The first is working on a new solution to mitigate targeted breeches, like Target's. The second is developing a solution in the operation technologies space. Both are in "stealth mode" so Team8 declined to provide more specifics.
"We'll do between four and six startups in the next couple of years," added Zafrir.