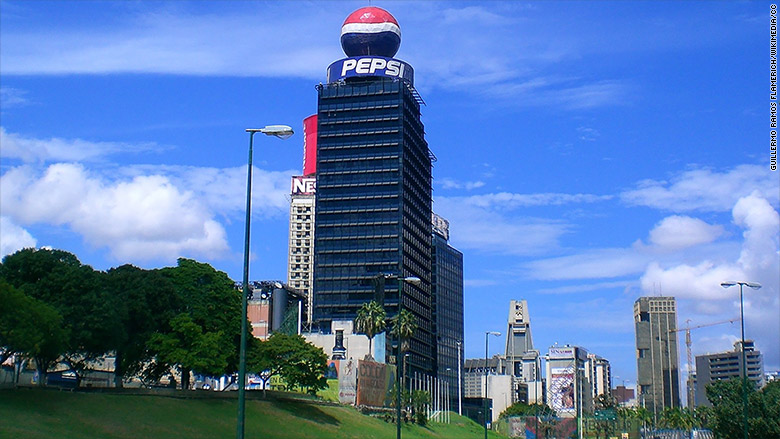 Venezuela might be small, but it's having a mighty impact on American businesses. Pepsi is its latest victim.
PepsiCo (PEP) said Wednesday that it took a $126 million hit last year because of Venezuela's currency, the bolivar, losing value.
The South American country's economy is widely regarded as the worst in the western hemisphere.
Pepsi warned that if the bolivar devalues any more than it already has, it will be a big drag on 2015 profits as well.
"Any further devaluation of the bolivar or change in the exchange mechanism could adversely affect our financial results," Pepsi noted in its earnings, saying that there's "significant uncertainty" about Venezuela's currency.
Related: Venezuela lacks a lot more than McDonald's French fries
Pepsi is hardly alone. Coca-Cola (KO) lost over $660 million last year from its operations in Venezuela, and a group of airlines said last year that the government owes them a combined $4 billion.
Venezuelan President Nicolas Maduro won't compromise with them, so U.S. airlines like Delta (DAL) and American (AAL) have drastically cut down their flights to Caracas. European airlines, like Lufthansa and Alitalia, cut all their flights to Venezuela.
The Venezuelan government announced a new foreign exchange system this week that many believe will devalue the bolivar even more.
A year ago, the unofficial exchange rate of the bolivar was 84 bolivars for $1. Today, it's 186 bolivars to the dollar, according to dolartoday.com, a website that tracks the unofficial exchange rate.
The country has been particularly hard hit by the massive slide in oil prices. Venezuela is an exporter of oil and about a quarter of the country's economy is driven by the energy sector. The government needs oil to trade at around $120 a barrel to break even. At the moment, it's under $50.
Venezuela already has sky-high inflation and food rationing.
Related: Airlines in currency war with Venezuela
The bolivar is losing so much value, the country can't even pay to import McDonald's (MCD) french fries, among other items. McDonald's have taken to serving a local dish instead.