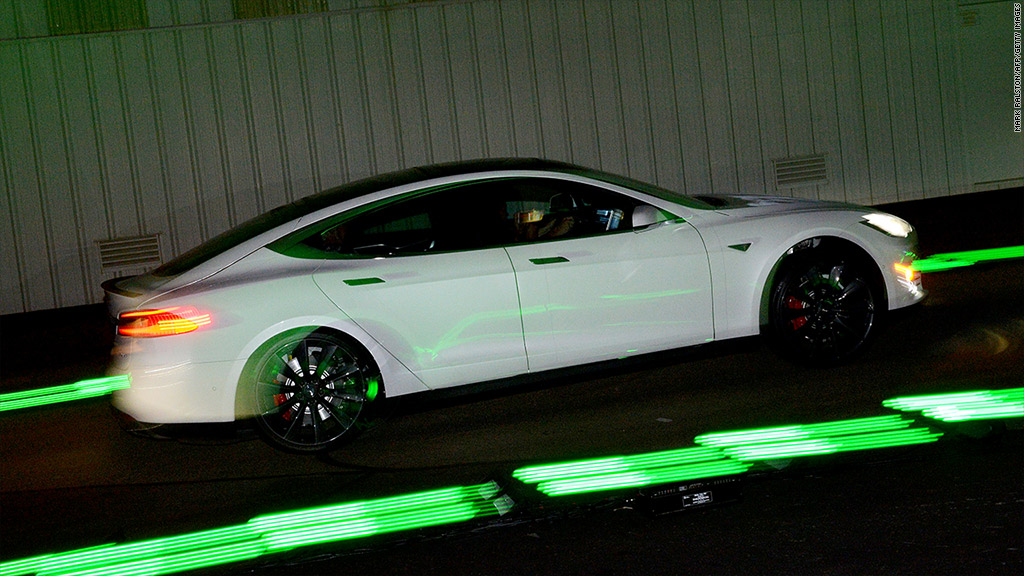 Not everything is perfect in electric car land.
Tesla posted a loss Wednesday, to the surprise of analysts who predicted a gain of 31 cents per share.
Tesla (TSLA) shares were down as much as 4% in after-hours trading. But CEO Elon Musk remains incredibly optimistic about the coming year.
He has some good reasons to be so cheery.
Early demand for its new Model X SUV, set to start shipping in six months, appears strong. Tesla already has 20,000 reservations for the vehicle. That's currently double the number of orders it has for the Model S -- the only vehicle the company has on the market right now.
Related: Automakers don't protect you enough from car hackers, senator says
And despite some production slowdown last summer, Tesla still managed to meet its goal for the year, making 35,000 vehicles in 2014. This required a "herculean effort," Musk wrote in his letter to shareholders. Tesla made improvements to the Model S last year, including a dual-motor and all-wheel-drive system, but those complexities hampered production speed for some time.
The company expects to deliver 55,000 Model S and X vehicles in the coming year. That would be a 70% increase over the number of vehicles it shipped in 2014.
It's not entirely clear why earnings missed so widely. Musk noted that the company had to delay the shipment of 1,400 cars because of a combination of customers being on vacation, severe winter weather, and other shipping problems.
Related: GM to unveil electric car that can go 200 miles on single charge
Revenue also missed, but the company still brought in $1.1 billion in sales, up 44% compared to a year ago. Musk pointed to a couple reasons for this. Models with all-wheel drive, which are more expensive, went on sale later than expected. And the strong dollar hurt foreign sales.
Musk said earlier this year that sales in China have been weaker than expected. The main issue was that people, mainly in big cities thought they weren't able install a charger at home -- which is false.
Now, Tesla is trying to alleviate that problem by installing charging points at customers' homes or businesses for free before the car is delivered. Musk said Wednesday that he is still convinced of the Chinese market's "vast potential."
Tesla sold a measly 120 cars in China last month, according to Reuters. The company has not confirmed that number, but Musk said on a call with investors that the China issue has been "blown out of proportion."
It's not difficult to charge in China, he said, and the company is going to get better at communicating that with customers.
While sales in China did disappoint last year, it's "irrelevant," Musk said. The company did not have any extra cars to sell last year, and is struggling to produce enough to meet demand.