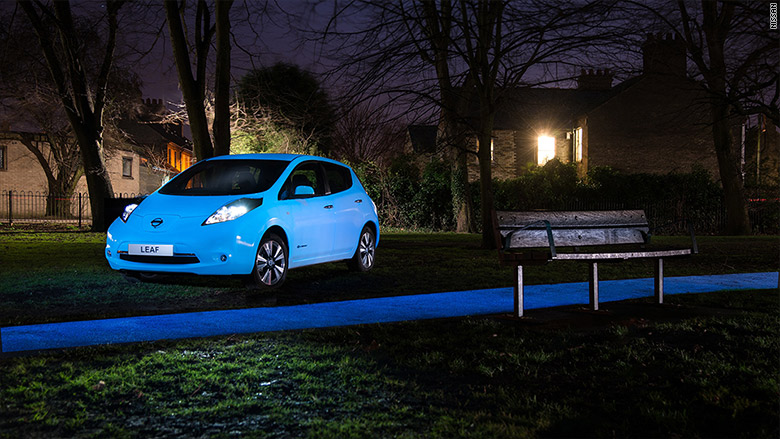 Bet you didn't see this coming. Well, actually, you couldn't miss it, especially at night.
Nissan (NSANF) has created a special glow-in-the-dark Leaf to advertise the benefits of charging the electric car from solar panels.
The luminescent car is covered in a special paint that absorbs energy from the sun during the day and emits a blue glow for up to 10 hours at night. It was created by Nissan in Europe by spraying the car with a special glow-in-the-dark coating.
Glow-in-the-dark car coatings of various types are readily available and have been put on cars before, although Nissan claims it is the first automaker to do so. The paint used on this car, which contains a substance called strontium aluminate, was made especially for Nissan using organic materials. It is biologically inert and cannot harm the environment, according to Nissan.
If it were made available the public, the paint would last for 25 years, Nissan said.
Photos - Best cars for planet Earth
The purpose of the car, Nissan said, is to promote the potential for charging the Nissan Leaf at home using solar panels. If government incentives are used to help pay for the solar panels, the car can be charged virtually free of cost, according to Nissan.
Nissan has put some interesting paint on Leaf electric cars before. Recently, it created a Leaf with mess-resistant paint that would almost never need cleaning because dirt, mud -- and other substances -- won't stick to it.