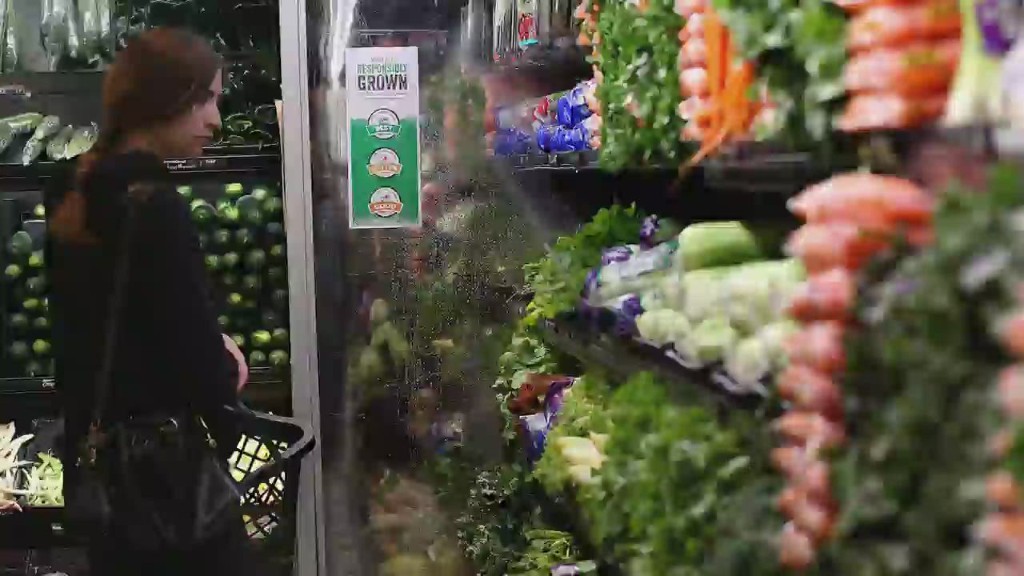 Call it a quinoa comeback. Whole Foods sales are surging and the stock is once again a popular item in Wall Street's checkout aisle.
Whole Foods (WFM) shares were up 5% Thursday to a 52-week high.
Sales rose 10% in its most recent quarter, hitting a record. Profits beat forecasts and were at an all-time high as well.
It's a remarkable turnaround for a company that was hit hard by growing competition from companies selling cheaper organic food. The stock has soared more than 50% from its lows.
Last year, investors had been wondering if the best days for Whole Foods were behind it. The company lowered its sales forecasts several times in 2014.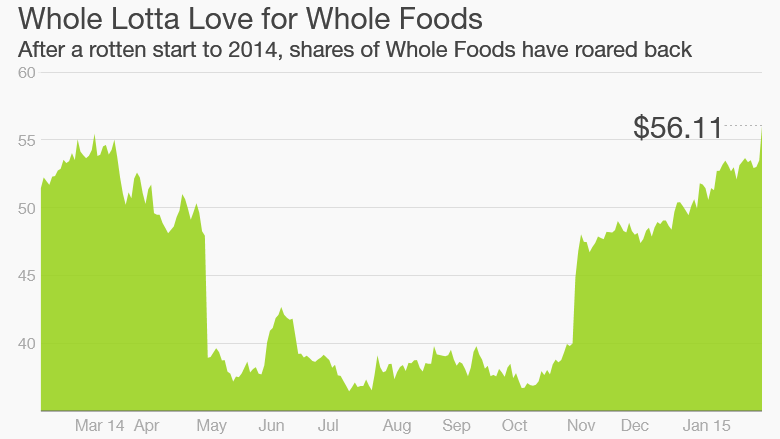 The plunging stock price even led to some wild rumors that privately held supermarket chain Publix was considering a takeover of Whole Foods.
Healthy competition: Many experts worried that the company's high prices were scaring customers away and the joke started that Whole Foods was really Whole Paycheck.
Supermarket chain Kroge (KR)r made a big push into organic food and its stock has been routinely hitting all-time highs lately thanks to strong results. Whole Foods has also had to contend with a growing challenge from discounters like Costco (COST) and Walmart (WMT).
And the success of Whole Foods gave birth to a new crop of healthy food grocers such as Sprouts (SFM), Fresh Market (TFM) and Fairway (FWM). Trader Joe's has been expanding aggressively as well.
Whole Foods co-CEO John Mackey candidly addressed the issue of competition during the company's conference call with analysts Wednesday.
Related: Americans don't trust "all natural" food labels -- but still pay up for them
"Competition's harder today than it used to be, but on the other hand Whole Foods is a lot better today than it used to be," he said. "In fact competition, it is your ally. It's your ally that helps you to get better. It knocks you out of your complacency. It keeps you from being lazy. It forces you to evolve."
One of the ways that Whole Foods has evolved has been to cut prices when necessary.
Price wars: Co-CEO Walter Robb said that Whole Foods is doing a much better job now of tracking prices at its competitors, and that it will be "relevant" on price. The company has been experimenting with lower prices for produce in several markets, he added.
Whole Foods has done more than cut prices though. It's also responded to the growing popularity of online grocery ordering. It has a partnership with Instacart in 15 markets that it launched last September.
Related: Grocery delivery startup Instacart banks $220 million
Robb noted that online deliveries now total more than $1 million a week for the company and that in some locations, online orders make up 5% of total sales. So there's a lot of potential here.
But many Wall Street analysts are still concerned about prices. Will Whole Food slash them even more?
Mackey stressed that Whole Foods is never going to get into price wars with its rivals.
"Whole Foods is about quality. It's about service. It's about selection. It's about ambiance. We've never been and we never will be trying to be the lowest-priced supermarket," he said.
That may be true. But investors (and consumers) are happy to see that Whole Foods has at least taken some steps to shed the Whole Paycheck image.