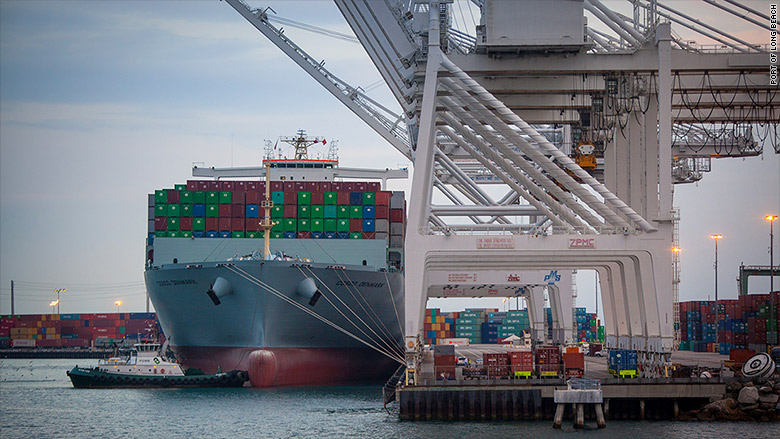 The twenty-nine West Coast ports that are a critical entry point for billions of dollars in trade with Asia will be shut down for four of the next five days.
Management is halting operations, claiming that 20,000 or so union port workers have been engaged in a work slowdown since November. It doesn't want to pay union workers 50% overtime for Lincoln's Birthday, which is Thursday, or the three-day Presidents Day weekend, amid the slowdown. Ports will be open on Friday.
The International Longshore Workers Union denies it is engaged in any job action. It says that ports are suffering from severe congestion due to higher trade volume and some technical issues.
The union has been negotiating for a new contract since May, and is currently working under the terms of a contract that expired in July. It has not threatened to strike.
The Pacific Maritime Association, which represents 72 companies including shipping lines, port terminal operators and the companies that load and unload ships, says it has made a lucrative offer to the union which would raise salaries by 14% over five years, on top of current average full-time wages of $147,000 per year.
The union says a shutdown is unnecessary, and that the two sides are close to an agreement.
Related: Oil worker strike grows larger
"We want to go to work, and they're blaming us," said union president Robert McEllrath in a message to his members late Wednesday. He said the shutdown is a management tactic to try to divide the union. "Nobody divides the ILWU," he vowed.
McEllrath said the union has been waiting five days for management to return to the bargaining table, and that talks are set to resume on Thursday.
One thing everyone agrees on: The ports have been backed up since November. Ships from Asia often need to anchor for 10 days or more outside of the ports, before they can unload their goods. That in turn is costing companies like retailers, billions of dollars.
The retailers criticized both sides in a statement Wednesday and called on the White House to intervene.
Related: Hundreds of Ford workers get nearly 50% raise
"Retailers and the rest of the supply chain are frustrated beyond belief," said Jon Gold, a vice president at the National Retail Federation. "The brinkmanship needs to stop. This stalemate is hurting American businesses, their employees and consumers."
The NRF estimates that a full strike or lockout at the West Coast ports could cost the economy $1.9 billion a day, though it declined to estimate what the four-day shutdown will cost.
Saturday, the White House announced that Secretary of Labor Tom Perez will meet with the two sides in California and urge them to reach an agreement, according to principal deputy press secretary Eric Schultz.
Even after a deal is reached, the congestion will take some time to clear up, according to Jon Slangerup, CEO of the Port of Long Beach. It could be six to eight weeks after that before deliveries return to normal.