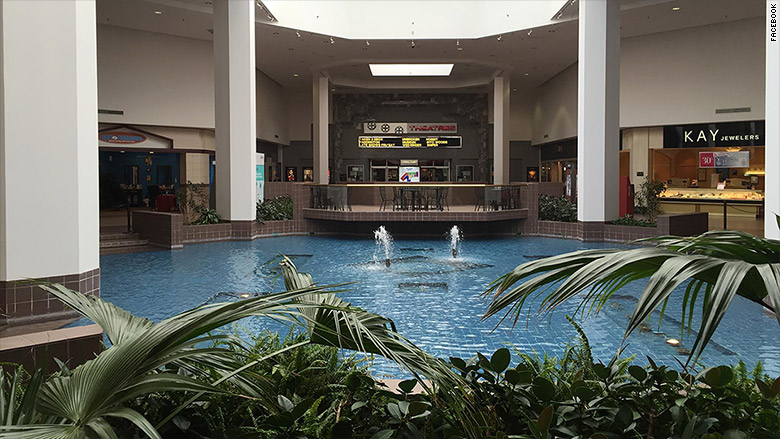 It's a dark day for one mall in upstate New York...literally.
The power was shut off Thursday morning at the Rotterdam Square Mall after the owner failed to pay the electricity bill.
That's bad news for anyone in the area, about 30 miles north of Albany, who was planning to pick up some Valentine's Day lingerie at Victoria's Secret or a nice-smelling surprise for that special someone at Yankee Candle.
What's worse is that its popular annual free wine tasting and cheese event, called the Valentine's Day Sip and Shop, had been "unfortunately canceled," the mall said on its Facebook (FB) page.
But the local power company, National Grid (NGG), was unmoved. The mall was behind on it bills for a while and National Grid had been working with the mall's owner, Kohan Retail Investment Group, for several months to set up a payment plan.
"Despite our attempts to work with the customer they have been unable to reduce their balance owed for the energy they have used," said National Grid spokesman Patrick Stella.
Related: Scenes from the death of an American mall
That's small comfort to employees at the mall. A salon at the mall had to shut down because there was no power for its hair dryers. An employee, who did not want to be named, said that even the phones had stopped working.
However, three of the larger stores at the mall -- Sears (SHLD), Macy's (M) and K-Mart -- were open and had their lights on. Each of those anchor stores had their own separate meters, according to a Sears manager that CNNMoney reached via phone.
Related: Saving America's malls from the brink of death
It's no secret that many of America's malls in economically weak suburban locations are struggling, and the Rotterdam Square Mall falls squarely in that category.
"I'm not even sure who's still there," said the owner of a laser tag business that left the mall a year ago. "It's a ghost town."
Mike Kohan, president of Kohan Retail Investment Group, told CNNMoney that he was disputing the bill. He said there was an electric meter in the mall that was not reported to him and that National Grid "came up with a huge number."
Kohan then asked us to call back later because he was on the other line "trying to get this straightened out."
Related: Once the world's biggest mall is being torn down today
In November, Kohan told the Albany Business Journal that he had to borrow $100,000 to pay the mall's power bill to keep the lights on during the all-important holiday shopping frenzy.
Kohan, who paid $8.5 million for the mall just over a year ago, told the Journal that he owed $300,000 for an electric meter that he didn't know existed when he bought the property.
Though the power company didn't say when things would be back to normal, the mall on its Facebook page apologized for the "terrible inconvenience" and said: "Everything should be back on tomorrow."