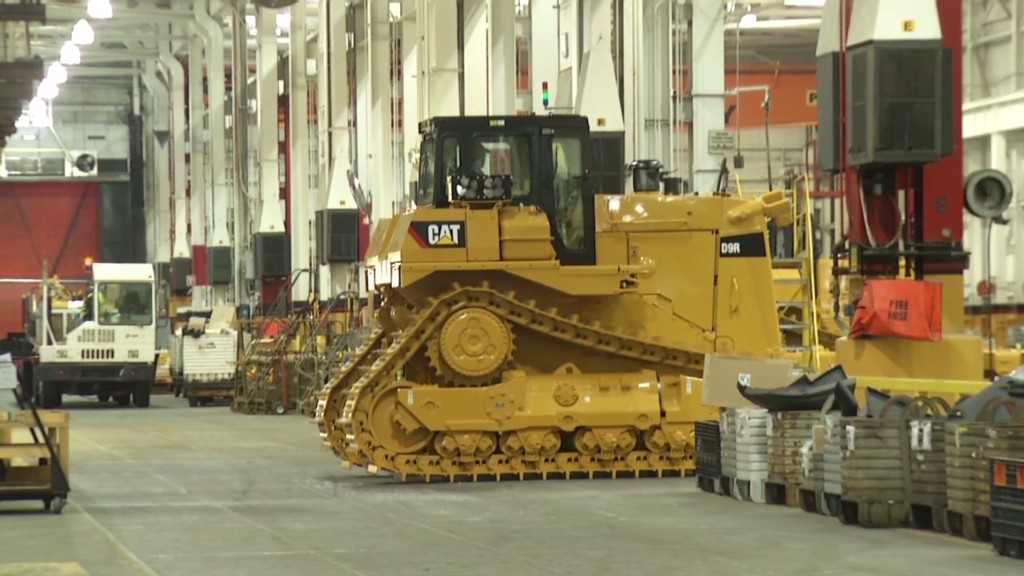 China's economy is hiccuping. It's causing serious stress for many American executives who relied on China as a key market to expand their business.
Growth in the world's second-largest economy decelerated to 7.4% in 2014, the coolest pace in 24 years. That slowdown has caused ripple effects around the globe, hurting commodities, imports and U.S. companies that generate sales in China.
But at least one U.S. company is taking the long view. Caterpillar (CAT) CEO Doug Oberhelman said he's actually "hoping" for a slower growth rate in China that can be managed through a transition period.
"Double-digit growth rates were great, but they can't sustain themselves for 100 years," Oberhelman told CNN's Poppy Harlow. He thinks a 3% to 5% growth rate is more sustainable.
The slowing economy in China is a big deal for Caterpillar, which generated $2.6 billion in revenue from the Asia-Pacific region during the fourth quarter alone. Of course, that was a 16% decline from the year before.
"I think over time it's going to be a fantastic market there, but they're learning to adjust to cycles -- just like the rest of us," he said.
While Caterpillar doesn't need to build out any more capacity in China, Oberhelman said the company continues to fiercely compete in what's become the largest equipment market in the world.
"We have to be there," he said.
Related: Pollution is driving foreign execs out of China
Oil pain hits Big Cat: Caterpillar is also grappling with the dramatic decline in oil prices. The blue-chip company singled out the oil crash as the reason why profits tumbled 25% last quarter and the outlook for the year ahead looks darker.
The company's stock is the second worst performer this year in the Dow, after only American Express (AXP).
Sales of equipment to oil companies are being dented by the lower price environment, which is causing oil producers to slow or even scrap projects that are no longer profitable. Oil production from fracking is significantly more expensive than vertical well drilling.
"New fracking is going to come to a screeching halt. That had been a good business for us," said Oberhelman.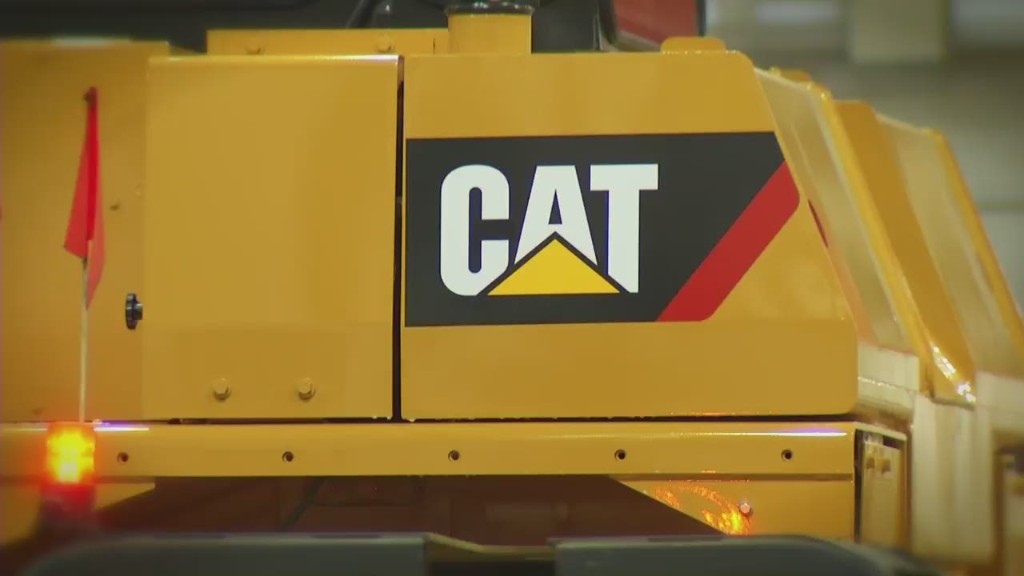 Related: End of OPEC is closer to reality
Huge stimulus for most: Yet the Caterpillar CEO realizes the cheap oil environment is a net positive for the U.S. economy, which consumes more oil than any other country on the planet.
One interesting benefit for Caterpillar is a reduction in the price of asphalt, a substance made from oil.
Thanks to the oil meltdown, local, state and federal governments "strapped for cash" can now "pave twice as many streets with half the price of asphalt," Oberhelman said.
Yes, some energy-heavy regions of the country like Texas, North Dakota and parts of Pennsylvania are being hit hard by cheap oil.
"Everyone else just had a huge stimulus in their lap that no Federal Reserve bank has ever been able to do," Oberhelman said.