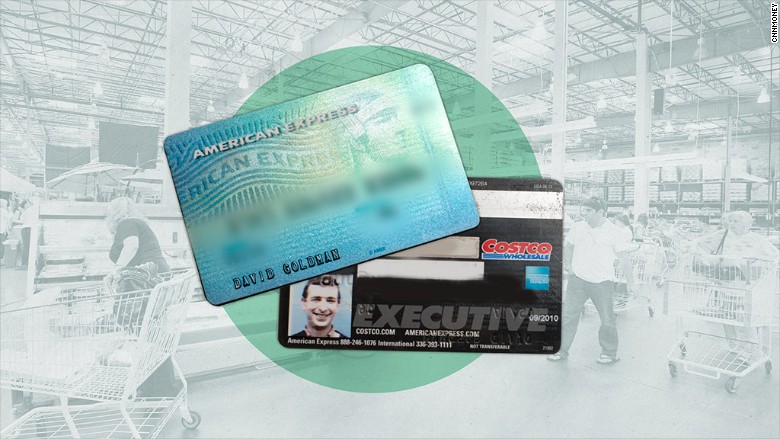 My go-to credit card for the past nine years has been my Costco American Express card. I'm incredibly bummed that I only have a year left with it.
Costco and Amex (AXP) announced this week that they have failed to come to terms to extend their 16-year exclusive partnership. American Express was the only credit card Costco (COST) accepted, and the TrueEarnings American Express Card doubled as customers' membership cards.
The relationship will end on March 31, 2016, after which Costco members like me will have to charge some other credit card for orders of 36 paper towel rolls, 150-oz containers of Tide and three-packs of pants.
The TrueEarnings card comes with some fantastic benefits: 3% cash back for gas, 2% for restaurants and travel and 1% back for everything else. And there's no annual fee if you're a Costco member.
In a few days, millions of Costco members will be receiving their annual rebate checks in the mail along with their February statements from American Express. I'm looking forward to mine -- all those cash rewards can really add up. My rewards check is almost going to pay for my family's flight to Texas to visit my in-laws this spring.
Sure, other cards offer cash back, miles, promotions and other perks. But what really made the TrueEarnings card special was American Express' stellar customer service. I have an unusual propensity for losing credit cards and finding fraudulent charges on my statement. I've never had an easier time dealing with either than with my Costco credit card.
I'm hardly the only one who feels this way. The card has been reviewed nearly 47,000 times on American Express' site: 59% are five-star reviews and 28% are four-star reviews.
"Customer Service is the best and there is always a quick and painless resolution to the issue at hand. Amex customer service professionals are a pleasure to work with. As for the benefits, cash back on purchases is our favorite," wrote Heather B., a TrueEarnings card member since 2001.
That has made the TrueEarnings card incredibly popular. American Express says that Costco credit card customers make 70% of their purchases outside of Costco warehouses. Costco cards made up one in 10 American Express cards -- and the number had been growing.
But Amex spokeswoman Elizabeth Crosta said that the company is letting its relationship with the retailer expire because "the terms that Costco wanted in the relationship would not make sense for us economically."
Crosta did not disclose what merchants pay to credit card companies as a fee for retail purchases. American Express generally charges retailers higher fees than MasterCard (MA) or Visa (V).
So what's in store for me and the millions of other TrueEarnings card users? When Costco Canada broke up with American Express in 2012, Costco replaced Canadian customers' Amex cards with CapitalOne MasterCard credit cards.
The good news: Amex's CEO Ken Chenault said on a conference call with investors that American Express will be looking to keep as many of its Costco card holders as possible.
"Over time, we will be offering them products to continue their relationships with American Express, and we expect to invest to develop and market value propositions that will appeal to those customers," he said.
Related: Whole Foods is red hot again
Related: Many U.S. retailers fail in Canada
-- Aaron Smith contributed reporting to this story.