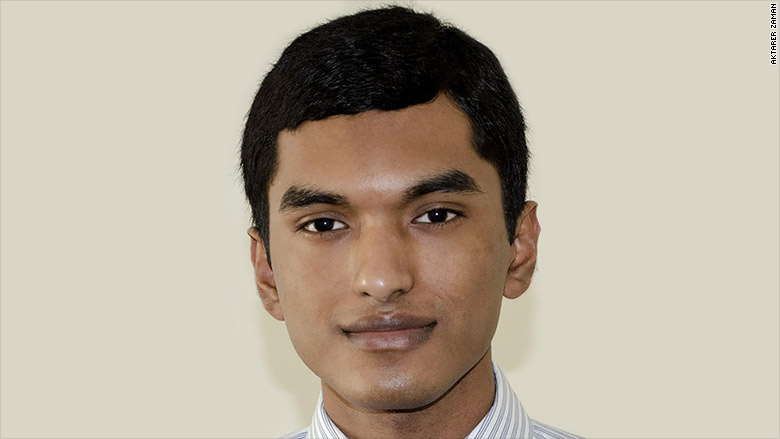 The game isn't over in the legal battle between United Airlines and the 22-year-old whiz kid from New York.
Aktarer Zaman, who started a web site that helps customers buy cheap air fares, just settled part of the lawsuit with Orbitz.
But United says it's not backing off.
United hasn't budged, Zaman said, "and to be honest I'm not really interested in budging either."
The game has certainly changed for Zaman since CNNMoney first reported on the lawsuit in December, when his site skiplagged.com got a few hundred thousand visitors a month.
Today, the site gets 2 million visitors monthly. Zaman has quit his day job at a tech startup. More than 3,500 supporters have donated over $75,000 on his GoFundMe site to pay his legal fees. And venture capitalists are knocking on his door to invest in him.
Related: Why is United suing a 22-year-old?
Orbitz (OWW), which is being purchased for $1.6 billion by Expedia (EXPE), said that as part of its settlement "Skiplagged will not redirect traffic to Orbitz.com and Orbitz Worldwide websites" and will not use Orbitz brands, logos or trademarks on its web site.
But United (UAL) is still trying to shut down the site. Both companies had sued Skiplagged back in December for "unfair competition" and promoting "strictly prohibited" travel.
"We are still involved in this litigation," said United spokesman Luke Punzenberger. "Mr. Zaman continues to openly encourage customers to engage in deceptive behavior by purchasing hidden-city tickets."
Orbitz and its travel partner United Airlines had sued Zaman for creating a web site that advised people on how to get cheap flights though a strategy called "hidden city" ticketing. Some flights are cheaper if travelers buy tickets with the intention of getting off at the layover airport, instead of following through the final destination. Travelers using this strategy buy one-way tickets and do not check bags.
Punzenberger said it's not just about the money, "but rather an injunction against Mr. Zaman and Skiplagged to prevent this from happening in the future."
But Zaman said he isn't doing anything illegal.
His lawyers have asked a judge in Chicago to throw out United's lawsuit. He said an answer from the court could come late February.
The roller coaster ride of the last few months -- between the site's impressive growth, the legal battle and the public's support -- has taught Zaman some important life lessons, he says.
"Things that can potentially upset people can also really benefit a lot of people," Zaman said. "This is confirmation that if you really believe in something, people will eventually see the value."