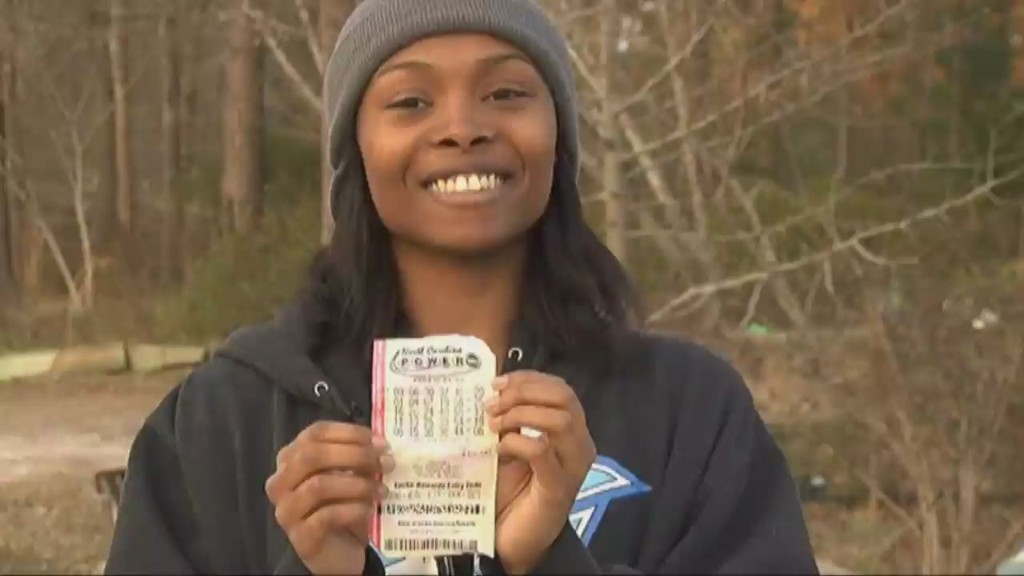 And the Powerball winner is ... an unemployed mother of four kids.
Marie Holmes, 26, of North Carolina is one of the three winners who picked the combination that won them the $564.1 million jackpot: 11-13-25-39-54-19.
"I thought I was going to have a heart attack when I seen the ticket," said Holmes, in an interview with local TV affiliate WECT. "My uncle actually sold me the winning ticket."
Holmes, who used to work at McDonald's (MCD)and WalMart (WMT), said she no longer has to worry about providing for her son and three daughters.
Related: How to win the lottery ... and lose it all
"I don't have to worry about the word 'struggle' no more, and neither do they," she said. "I just want them to understand that money doesn't change you, but it can help you, so they don't have to worry about debt, none of that. They can go to college; they don't have to worry about nothing. And I'm glad that I can do that for them."
A Powerball spokesman said he couldn't confirm that she was a winner. "We have not been presented a winning ticket. We advise anyone who believes they have a winning ticket to sign and secure their ticket, get sound professional advice on the financial and legal issues that will arise, and think about how they want to move forward with their lives after they claim the prize."
Winners have 180 days to claim the prize.
Holmes already has big plans. She said she'll help out her immediate family members, and she wishes her grandmother -- who was like a "second mom" to her -- was still alive to take part in the success.
"I know she's looking down at me and happy that I finally made it, we finally made it, and I can actually do this for my kids," she said.
She said she plans to set up bank accounts and buy houses for her children. She also plans "to go away for a while" though she didn't say where.
"I'm very, very grateful," she said. "I'm ready to embrace the change."
Related: So you won the lottery? Here comes the taxman
The other winners, from Texas and Puerto Rico, are yet to be identified.
The three will split the winnings, which can be taken in annualized payments, or as an all-at-once cash option for the smaller amount of about $381 million.
There were also 17 partial winners, who picked five of the six numbers correctly, and they each won $1 million.