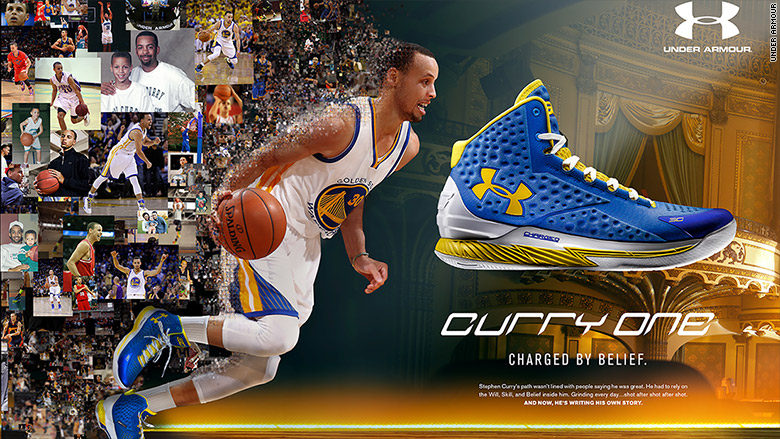 The basketball sneaker may have a new star: NBA all-star Stephen Curry.
Curry will be the face of UnderArmour's new basketball shoe that is slated to take on the holy grail of high tops: Nike's Air Jordan brand.
Curry is the Golden State Warriors point guard and MVP hopeful. He stars in an UnderArmour commercial that will debut Sunday during the 2015 NBA All-Star Game. He also happens to be a starting player for the Western Conference Team.
The commercial, which costars acclaimed actor Jamie Foxx, shows Curry on a stage shooting baskets as a screen with images from his childhood flickers in the background.
After christening him a "patron saint of the underdogs" and dubbing him "the league's most un-guardable player," UnderArmor and Foxx predict that Curry is destined for sneaker stardom.
The shoe is called the "Dark Matter" Curry One.
"That's when the media catches the story," Foxx proclaims. "And the kids will show up and mob the stores all the way from SoHo to Shanghai. Ni hao!"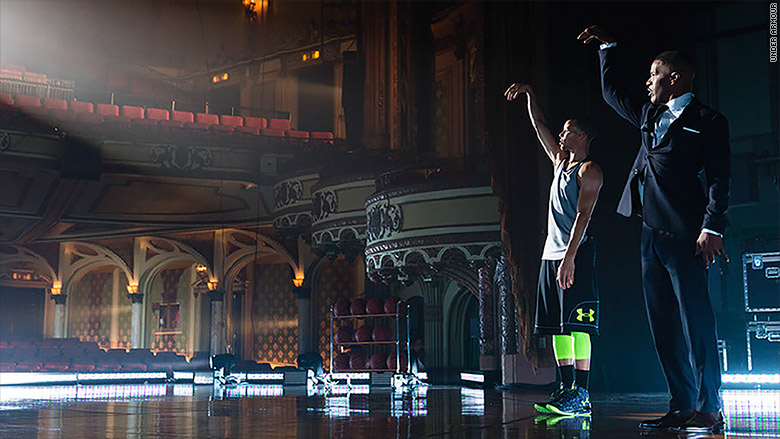 It remains to be seen if the kids will shell out $119.99 for the Curry One shoes. UA (UA) is a relative newcomer to the basketball business and it faces stiff competition from some well-established rivals.
Related: No way, Under Armour! Nike swooshes in with $300 million to keep Kevin Durant
Nike (NKE) and its Brand Jordan, the namesake shoe of basketball icon Michael Jordan, control 95% of the $4.2 billion market for basketball shoes, according to SportsOneSource.
"Brand Jordan is a powerful force, especially among collectors and sneaker heads," said Neil Schwartz, a market analyst at SportsOneSource. "It's also very popular as casual athletic fashion."
By contrast, UA has about 2% of the market for basketball shoes.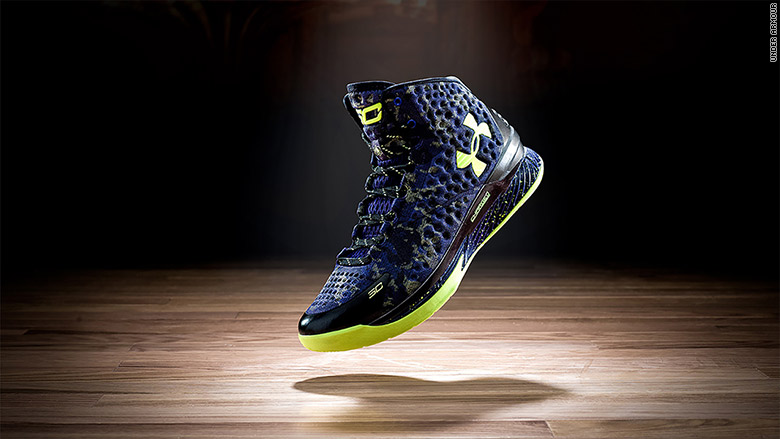 Still, UA has been growing rapidly in the past few years. The company said earlier this month that it brought in a record $3 billion in revenue last year. Its stock price and market value have risen about 40% in the past year.
It's more likely that UA will be able to make a dent in the market share of the No. 2 basketball shoe maker, Adidas.
Adidas, best known for its soccer "boots," is also airing a commercial during the All-Star Game.
Related: Where's Nike's self-lacing shoes?
The German athletic apparel company has been pushing hard to get into basketball and other sports that are more popular in America.
"We are challenging everything we do in the U.S.," said Mark King, Adidas Group North America president. "We are in the midst of our most aggressive effort to drive growth in the U.S."