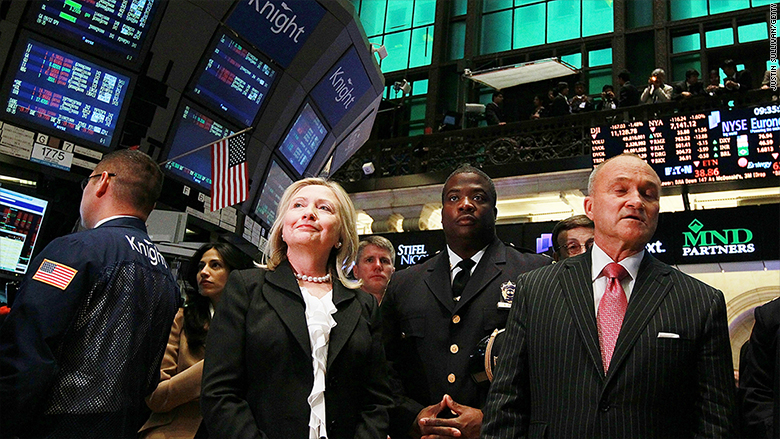 President Bill Clinton brought Wall Street arguably its best bull market ever. There's historical precedent to believe Hillary -- or any Democrat in the White House -- could deliver even more good times to investors.
Overall, stocks perform better under Democratic presidents than Republican ones, according to S&P Capital IQ.
In the last 100 years, the S&P 500 (SPX) had about a 12% median annual gain during the tenures of Democratic presidents. Republican presidents only saw a median rise of just over 5% a year.
Of course, any analysis comes with the large disclaimer that the past is no predictor of future returns. But investors have started to take notice.
Related: Republican debates: Media winners and losers
'90s throwback? President Clinton is in a league of his own when it comes to stock market performance. The S&P 500 rose by a total of 210% during his two terms, well ahead of any recent president. To put that in context, the index has grown 160% since Obama took office.
There's hope that Hillary would bring more of the same.
"She would be very well received," by Wall Street, says Greg Valliere, chief political strategist at Potomac Research Group. "There's a certain comfort level there because of Bill."
Related: Rand Paul wants to 'Audit the Fed.' Why?
Gridlock city: Hillary -- or any Democrat in the executive branch -- would likely continue the gridlock between the White House and a Republican-led Congress. Considering the opposition Bill faced from a GOP Congress, that may not be a bad scenario for markets.
When Congress is split, the S&P 500 gains 10% a year with Democratic presidents and 3% a year with Republicans presidents, according to data from Standard & Poor Equity Research.
For better or worse, gridlock means no significant reforms to Wall Street. Investors like that, says Valliere.
"The markets, in general, can live with gridlock," Valliere says. "They pass less activist legislation."
Related: Here's what to really fear about the stock market
Bush, Clinton compete on the Street: As the election nears, all the candidates' policies will be in the spotlight.
The most formidable candidate competing for Wall Street's hearts, minds and checkbooks so far is former Florida Governor Jeb Bush. No stranger to Wall Street, Bush recently quit a stint as an adviser to investment bank Barclays.
Investors' views of any candidates could hinge on one big issue for corporate America: cybersecurity, says Kristina Hooper, U.S. investment strategist at Allianz Global Investors.
Almost 90% of CEOs say cybersecurity is their top priority this year, according to a recent survey by investment bank Piper Jaffray. TurboTax and Anthem can speak from experience.
"It is a huge issue now among corporate leaders," Hooper says. Cybersecurity "is completely under the radar now for investors in terms of the election [and that] could really come to the fore in the next 18 months."
Related: Elizabeth Warren is worth millions
How much does a president do? Of course, some point out that a president's policies don't really drive the markets much. These days, every investor is hanging on the words and actions of Federal Reserve Chair Janet Yellen, and when the Fed decides to raise interest rates.
Love it or hate it, the Fed's stimulus program undoubtedly played a major role in the U.S. economy over the past six years.
"Sometimes we ascribe more influence by administrations to the performance of the economy and the financial markets than they really deserve," says Ed Yardeni, president of Yardeni Research, an investment strategy firm.