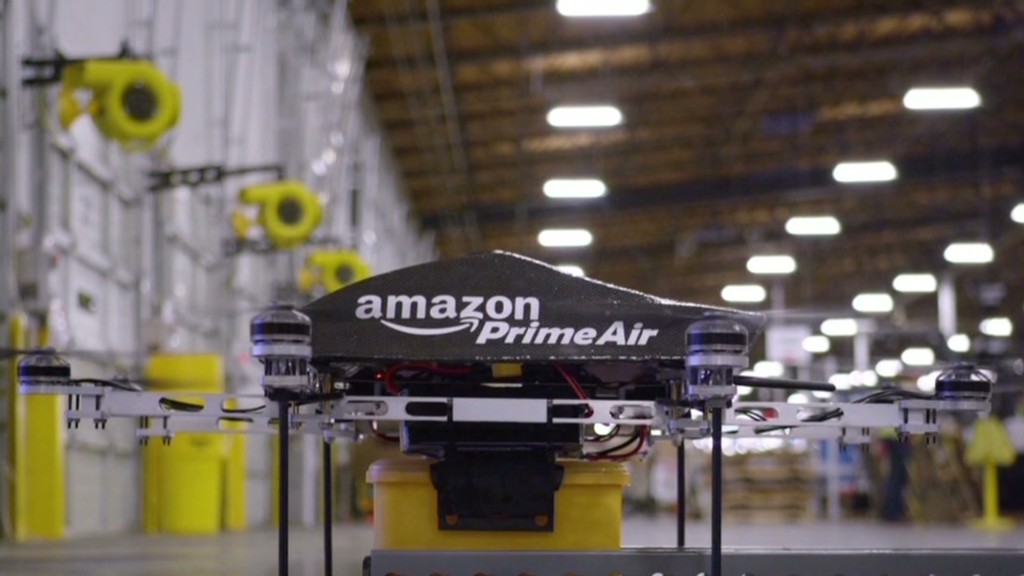 The government's new drone proposal would open the skies to a whole list of new uses -- but not Amazon deliveries.
Amazon's plans for a drone-based half-hour delivery service known as Prime Air would remain grounded under the rules the Federal Aviation Administration proposed Sunday.
"The FAA's proposed rules for small (drones) could take one or two years to be adopted and, based on the proposal, even then those rules wouldn't allow Prime Air to operate in the United States," said Paul Misener, the retailer's vice president for global public policy.
Misener called on regulators to act faster: "The FAA needs to begin and expeditiously complete the formal process to address the needs of our business, and ultimately our customers. We are committed to realizing our vision for Prime Air and are prepared to deploy where we have the regulatory support we need."
Amazon (AMZN) first unveiled the ambition of deliveries by drone more than a year ago, a move that put pressure on federal regulators to catch up with the interest from both the public and corporate America in drones, officially known as unmanned aircraft systems, or UAS.
Related: Drone pilot wanted, for a starting salary of $100,000
It expects a future where seeing a delivery drone "will be as normal as seeing mail trucks on the road." It hoped drone flights would be permitted as soon as 2015, but the rules aren't there yet.
Current FAA rules bar commercial drone flights, although about two dozen exemptions have been approved. CNN is among those pursuing news uses for drones though a partnership with the Georgia Institute of Technology.
The existing rules are more permissive of hobbyists.
Related: Alibaba is using delivery drones
The proposed rules would allow limited commercial flight by small drones weighing less than 55 pounds. The drone would be limited to heights of less than 500 feet and speeds under 100 mph, and must avoid airports, planes and restricted airspace. Operators would need to pass a basic test every two years and have a permit.
The biggest hurdles to Amazon's delivery ambitions: The operator must keep the drone within his sight at all times and must avoid people. He also must not allow "any object to be dropped from the UAS."
That would seem to preclude Amazon drones from flying into cities and leaving small packages on customers' doorsteps, all the while controlled by an operator back in the Amazon office.
Among the concerns of regulators is no doubt what Amazon CEO Jeff Bezos said in announcing the plan: "This thing can't land on somebody's head while they're walking around their neighborhood."