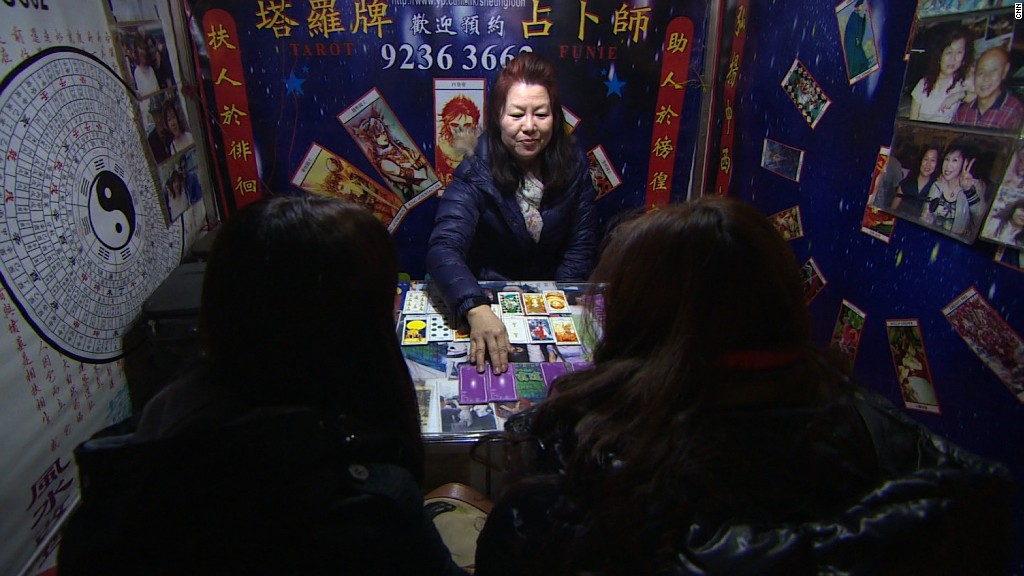 It's that time of year again! Lunar New Year is right around the corner, and many Chinese are consulting fortune tellers to learn what the year of the goat has in store.
But what do fortune tellers foresee about the world's second-largest economy?
CNNMoney visited Hong Kong's Master Joseph Wong, a feng shui and destiny consultant, to solicit his predictions on macroeconomics, investing, property and world affairs.
Visiting a fortune teller is no small matter in China, where traditional beliefs -- from numerology to cosmology -- offer insight into everything from love to business deals.
For additional perspective, CNNMoney ran Wong's predictions by another professional prognosticator -- an economist.
The macro vision
"It seems that in the year of the goat, China's economy [will] still have some growth, but maybe slow down compared to last year -- not so strong," Wong said.
This prediction appears to be right on the money. China's economy grew by 7.4% last year, and economists surveyed by CNNMoney expect growth just shy of 7% for 2015.
The forecast "sounds very reasonable, actually," said Julian Evans-Pritchard of Capital Economics.
Related: China posts its worst growth in 24 years
Property bubble?
Wong thinks China's property market will be "quite stable in the first half of the year, but in the second half of the year, according to feng shui advice, there may be some fluctuation."
There's perhaps some truth in that -- China's property sector is pretty rocky these days. But most economists are sour on the market for the entire year.
"There's so much oversupply in the market, that developers are already sitting on such large inventories of unsold property," said Evans-Pritchard.
Even a pick up in property sales won't provide a boost to the economy, he said.
"It's building activity that supports economic activity, not sales ... construction activity is going to remain very weak this year and will be a drag on growth, as it was last year."
Related: Economists are really worried about China's massive property sector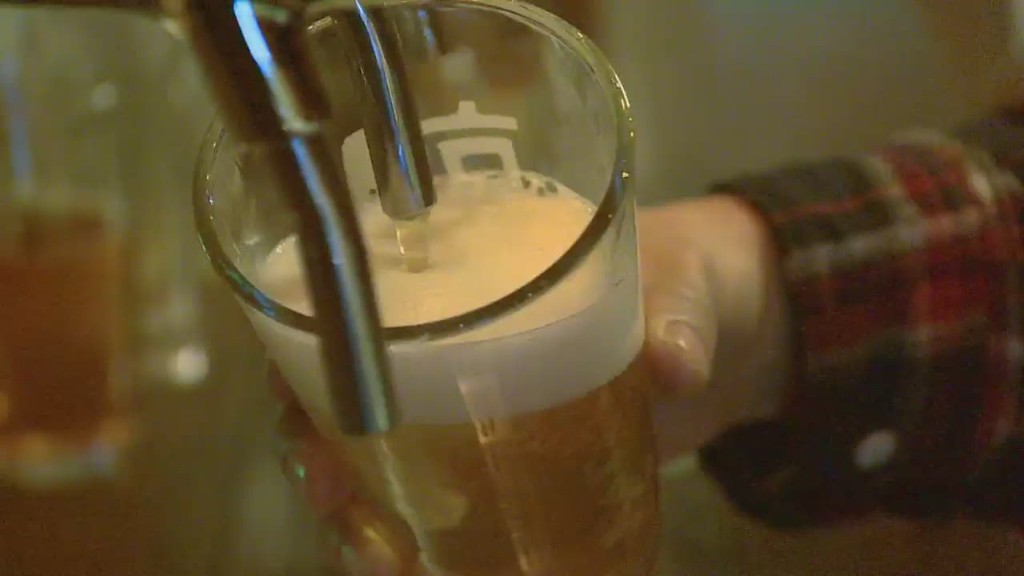 Spend wisely
Chinese believe some of the five elements -- wood, water, metal, fire and earth -- are stronger in certain years.
For this year, metal is the strongest, Wong said. As such, he recommended investors buy into metal-related businesses, such as banking or other finance industry shares.
"But take care during the months of June, July and the end of December -- it seems a bit of market fluctuation will occur," he cautioned.
Evans-Pritchard warns just the opposite, metal or no metal year.
"Obviously, the outlook for banks is not great," he said. "There is going to be an even larger squeeze on bank interest margins going forward, and obviously the credit risk on banks' balance sheets."
Chinese banks have lent much more than they may be able to recoup -- how that debt gets rolled over, and whether it will ever get repaid, could send a shock through the financial system.
Related: Debt-laden 'zombie' firms threaten China's economy
China - U.S. relations
The year of the goat will be quite stable for Chinese President Xi Jinping, born in 1953, the year of the snake, Wong said. Turns out the snake and the goat are friends.
But Xi does "need more communication with his colleagues in order to make the political situation more smooth," Wong said. "He needs to do more hard work regarding the policies of the central government."
Xi certainly has his work cut out for him. In the two years since he took office, he has launched a massive anti-corruption campaign and promised major economic reforms.
There has been some progress. But Xi still faces an uphill challenge to shore up China's economy, and may need more political buy-in to push through reforms.
Xi might be able use some of his luck to help out his American counterpart. Born in 1961, the year of the ox, President Obama is going to have "big changes this year," Wong said. "He may face many problems."
Wong said Obama's luck could improve if he puts a snake or rooster in his office. Maybe he could just invite Xi for a visit.