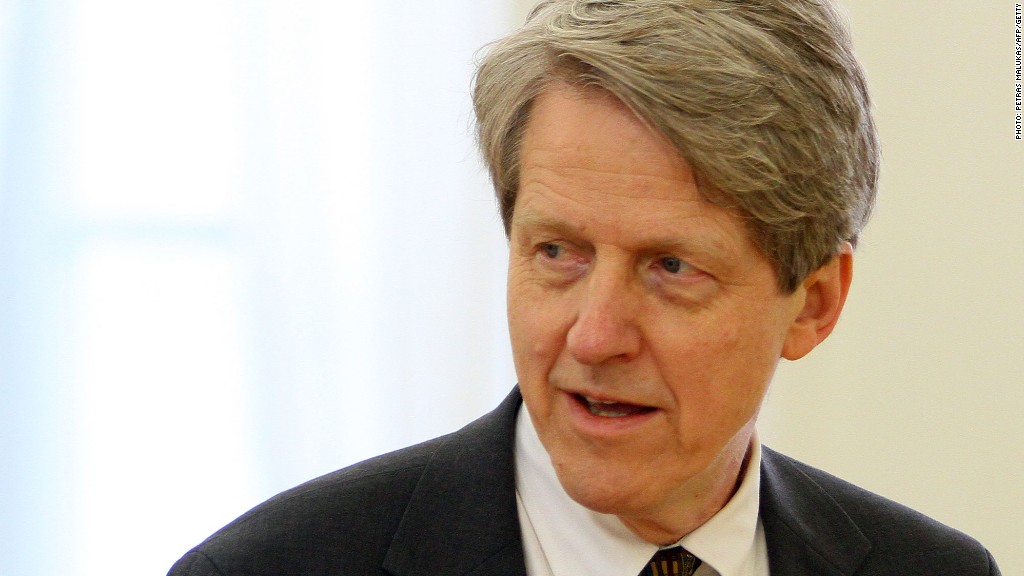 If the stock market had a canary in the coal mine, it's Nobel prize winning economist Robert Shiller.
He's been warning for months that U.S. stocks look expensive.
Just this past week, he tweeted out his latest analysis showing that stocks are now as costly as they were in 2007 -- the peak just before the financial crisis hit.
Related: Tech stocks are on fire: How high can they go?
Even though it's not like the market euphoria of the dot-com bubble, Shiller feels there just aren't that many deals to be had in the U.S. right now. And he should know -- he has researched stock market trends going back to the 1880s.
That's why he's eying Europe.
"I'm thinking of getting out of the United States somewhat. Europe is so much cheaper," Shiller said on an appearance on CNBC Wednesday morning.
In fact, he's betting on Italy and Spain by investing in indexes that track those country's stock markets.
Related: Clock ticking, Greece may ask for more time
Hot stocks: European stocks have been the best performers so far this year among developed countries. The main STOXX Europe 50 index is up about 10% so far this year. Spain's IBEX has gained 5% and the FTSE Italy has risen over 12%. Compared to that, America's S&P 500 is up less than 2%.
As a CNNMoney analysis pointed out over the weekend, many experts are saying Europe is on sale right now and investors should look for opportunities to buy there.
"We are definitely of the opinion that this year Europe will outperform the U.S.," says Martin Schulz, manager of the International Equity Fund at PNC Capital Advisors.
Despite the Greek debt drama, there are signs that Europe's economy could pick up. Investors are especially excited about the European Central Bank's stimulus plans.
Currency is the one caveat: There's just one problem for investors: the euro is at its lowest point in over a decade against the U.S. dollar. That makes European vacations and wines cheap, but it can eat into investment returns. For example, a 10% return in euro can end up being only about a 4% return when converted into dollars, Schulz explains.
Related: Europe is on sale for American travelers
Shiller told CNBC he is not hedging currency, but some experts recommend looking for European funds that do at least some hedging.
Overall, Shiller says his own portfolio is about 50% invested in stocks at this point.
"Right now it seems like there ought to be something I could do to make a lot of money," Shiller said. "For most of us, you look at the major asset classes and they tend to be pricey."
He best advice for making money is simple: "You have to save more."