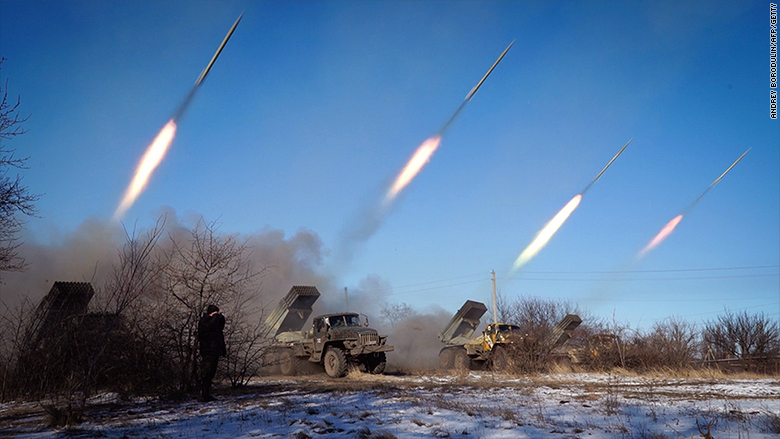 If rounds of gun fire keep piercing the air in Ukraine and unravel a shaky ceasefire, Russia could very well be heading for more sanctions.
But the severity of those sanctions and the timing all depend on the intensity of the fighting.
The European Union's foreign affairs department said it is preparing more measures that could be used against Russia if the ceasefire isn't observed.
"The EU stands ready to take appropriate action in case the fighting and other negative developments ... continue," said Federica Mogherini, the top representative of the EU foreign affairs department, as fighting dragged on in Debaltseve in Eastern Ukraine on Wednesday.
In terms of severity, sanctions targeting individuals are relatively innocuous, corporate sanctions are more heavy handed, while industry-wide sanctions are crippling.
At present, the EU and U.S. are targeting many individuals, some companies and parts of economic sectors, including some Russian banks. The measures were created to pressure Russia to withdraw military forces from Eastern Ukraine and stop supporting pro-Russian separatists.
But Russian President Vladimir Putin has continually denied that his country's troops are in the region.
Related: Russia + North Korea = New BFF?
Otilia Dhand, a political risk analyst at Teneo Intelligence in Belgium, said she expects continued fighting in Ukraine will bring incremental increases to sanctions.
"We could see some tightening around the margins" related to sanctions against Russia's finance, energy and defense sectors, she said.
If fighting extends to the critical city of Mariupol, more heavy-handed sanctions are also expected.
But Dhand predicts full-fledged sanctions against entire Russian sectors would only be introduced if Russia led an "open, undisguised invasion of Ukraine", which would be unlikely, she said.
The EU wouldn't reveal to CNNMoney how far it was willing to go with any new round of sanctions.
U.S. officials wouldn't comment on any near-term plans for sanctions.
Meanwhile, Europe and the U.S. could dial back the pressure if the ceasefire is successful. But it doesn't look like that will happen anytime soon.
Related: Ukraine gets new $40 billion lifeline
On Tuesday, Canada issued a round of new sanctions, with the top target being Russia's biggest oil company, Rosneft.
The oil and gas firm is already facing harsh sanctions from the U.S. and EU that restrict its access to Western financing. It's also barred from using European and American technology and services to develop certain oil sources, including shale oil. Plus, Rosneft president Igor Sechin has been banned from making any financial transactions with American companies and individuals.