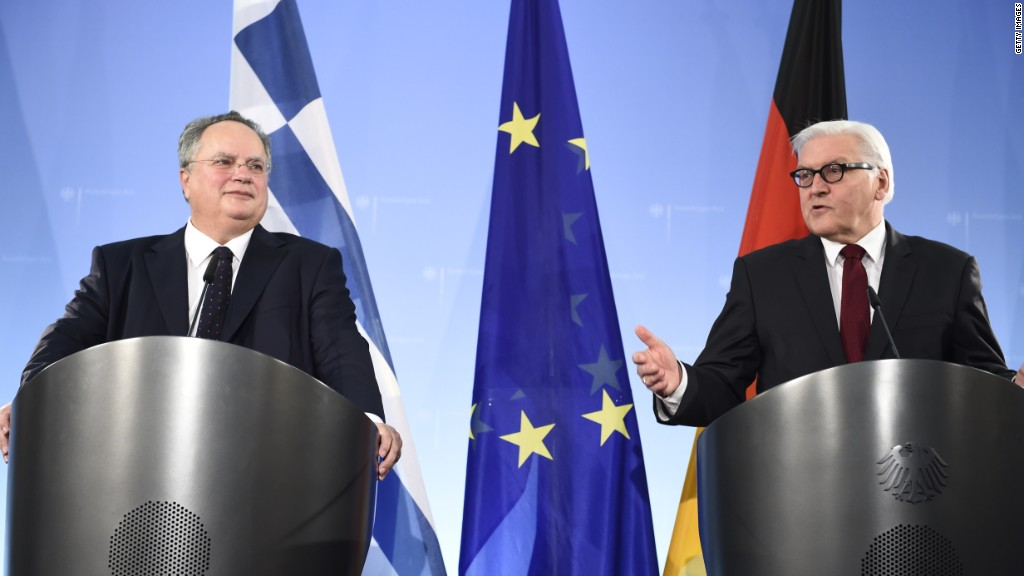 Nice try, Greece.
It took only a few hours for Germany to flatly reject the struggling country's request Thursday for a six-month debt extension.
The request was initially seen as a sign that compromise might be at hand after weeks of talks failed to broker a deal. But Germany, the country's largest creditor, quickly rebuffed the proposal.
"The letter from Athens offers no substantial solution," German finance ministry spokesperson Martin Jager said in a statement. "In reality it focuses on bridge financing without meeting the conditions of the program. The letter does not fulfill the criteria agreed at the Eurogroup meeting on Monday."
It's unclear what conditions Greece had proposed.
If Greece doesn't strike a deal soon, it risks running out of money. The existing bailout program ends on February 28 and debt repayments soon fall due: Greece owes €1.5 billion to the IMF in March, followed by €6.5 billion in bond repayments due to the ECB and its eurozone partners by August.
The Greek government was elected last month on a promise to scale back severe spending cuts imposed in exchange for about €240 billion ($273.8 billion) in international aid that it has received since 2010.
But its lenders, led by Germany, have demanded Greece stick to the terms.
The extension request is due to be debated by eurozone finance ministers at a meeting in Brussels on Friday.
Related: Opinion: The eurozone is broken. Will Greece pay the price?
Even before Germany rejected the deal, experts cited months of little progress in their skepticism that a deal could be reached at tomorrow's meeting.
"I doubt we'll get anywhere close to the Greek position, in which it wants to run much smaller primary surpluses than those in the previous program," said Jennifer McKeown from Capital Economics.
McKeown said there may be some compromise on Greece's longer term debt position, including loan repayments linked to GDP growth or trade surplus.
"At most it's likely to be a short-term deal to allow Greece to meet its financing requirements," she said. "A lot of the longer-term issues are still likely to need to be ironed out."
Related: How Greece could accidentally stumble out of the eurozone
The latest developments came as the ECB reportedly increased its access to funding for Greek banks. Shut out of normal funding operations and facing dwindling deposits, Greek banks have been relying on emergency liquidity assistance, or ELA.
The threshold for emergency assistance was reportedly raised by €3.3 billion to €68.3 billion.
Earlier this month the ECB said that it would no longer accept junk-rated Greek government bonds as collateral for cheap central bank cash because it could not assume "a successful conclusion of the [bailout] program review."
That has meant Greek banks have had to lean more heavily on ELA, which is more expensive and also requires continuing ECB authorization.