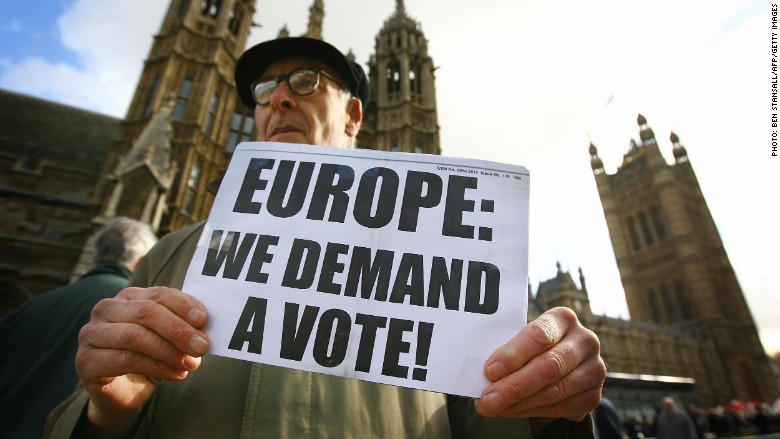 The world's second largest bank is worried about the risk of Britain quitting the European Union.
Douglas Flint, chairman of HSBC (HSBC), called the possibility of the U.K. leaving the bloc "the one economic uncertainty that stands out for the bank."
Britain's future in the EU is a hot topic ahead of a general election in May. Prime Minister David Cameron has promised to hold an "In or Out" referendum on EU membership if his party wins.
Opinion polls show Brits are roughly evenly split on the question. EU membership was last tested in a popular vote in 1975, when 67% were in favor of staying in Europe.
Writing about the outlook for HSBC, Flint warned the consequences of quitting the EU could be painful.
"Working to complete the Single Market in services and reforming the EU to make it more competitive are far less risky than going it alone, given the importance of EU markets to British trade," Flint said.
Flint's remarks coincided with the release of research by the bank's U.K. economists, who concluded Britain should stay in the bloc.
"At stake is the UK's relationship with its largest trading partner, the future growth of the City as a financial hub and the ability of people to move freely between the U.K. and EU countries," they wrote.
Related: HSBC boss hid bonuses in Swiss account
Pro-Europeans say Britain risks cutting itself off from a single market of 450 million people, and jeopardizing London's position as the financial capital of Europe.
Flint is not the only high-profile financier to warn of the dangers. Goldman Sachs (GS) executive Michael Sherwood says European banks would leave London "in very short order" if Britain voted to walk away.
Even some of those who have chosen to stay out of the EU, such as Norway, say Britain would be disadvantaged.
Norway is not part of the EU, but belongs to the European single market -- meaning it follows EU rules in order to be able to trade freely with the rest of the bloc. It is often held up as a model by British anti-EU campaigners.
But Norway's minister for Europe told a newspaper on Sunday that Britain would lose influence in the world. Vidar Helgesen told the Observer that the arrangement is often frustrating as Norway doesn't have the right to vote on issues that impact it.