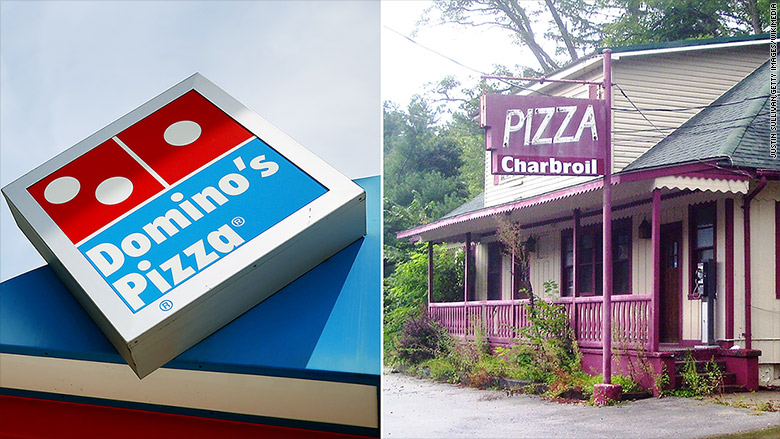 However you slice it, Domino's Pizza is delivering.
The menu will never be gourmet, but it has improved to the point where the chain is now elbowing out some neighborhood pizza shops.
The result: Domino's (DPZ) sales are soaring -- at home and abroad -- and its stock price would make most investors salivate. Shares are up 40% over the past year, far outpacing the market, and the stock just hit a record high again on Tuesday.
Not bad for a place that just a few years ago admitted many customers thought its pizza tasted like cardboard.
"Domino's is doing a good job of remaking itself as not such a lousy choice for pizza," said John Staszak, an analyst who covers the company at Argus Research.
Related: How to make money with $1 slices
Gone are the days of Domino's as just a place for poor and drunk college kids to get a quick bite. Sales in the U.S. jumped an impressive 11% during the fourth quarter. By comparison, domestic sales at rival Pizza Hut, owned by Yum! Brands (YUM), flatlined last quarter.
On top of that, a voice-ordering app launched last year has been a big hit.
"They've had more success than anyone gaining share in the quick service pizza segment," said Chris O'Cull, a restaurant analyst at Keybanc.
Related: Domino's Pizza is hot again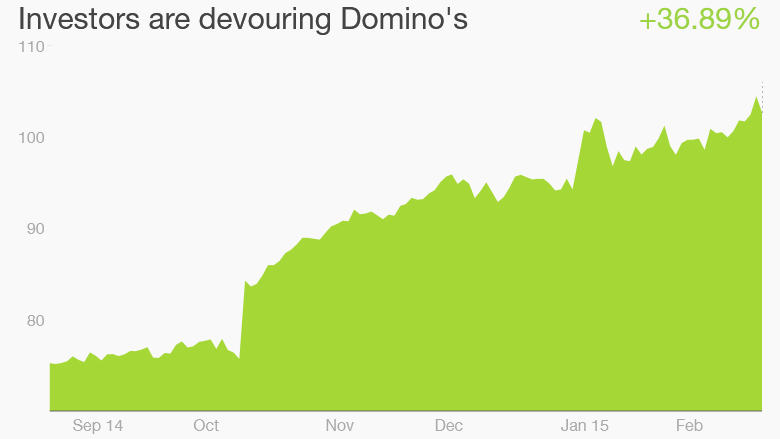 4% fewer mom-and-pop shops: So who are they squeezing out of the market? O'Cull points to independent and small regional players.
Between 2008 and 2014, there are roughly 4% fewer U.S. independent pizza shop stores, according to Keybanc.
This marks a shift in the pizza wars. While national burger and sandwich chains like McDonald's (MCD) and Subway dominate their smaller, neighborhood rivals, the reverse had been true in the pizza world -- at least until recently.
"In the past, if you had a good recipe and $150,000 you could open a pizza store," said O'Cull. It's getting harder now.
Related: Our taste-test of really weird pizzas at Pizza Hut
Size matters in pizza wars: Domino's, as well as other national chains like Papa John's (PZZA), have several advantages against mom-and-pop store owners.
First, the convenience offered by digital ordering platforms is simply not feasible at many independent places. A mobile app that lets you order pies with just your voice? No chance.
Like other small businesses, independent pizza shops are also grappling with higher costs, especially on the labor front due to minimum wage and payroll tax hikes. If they don't own their own restaurants, these smaller players are also facing rent inflation.
Due to their scale, national brands like Domino's are also a little more insulated from commodity price pressures. Cheese prices, which make up nearly half the cost of a pie, jumped about 20% last year, O'Cull said.
Domino's is also sinking lots of money into a remodeling campaign to freshen up its stores.
"Some of these mom-and-pop stores look pretty tired," said O'Cull.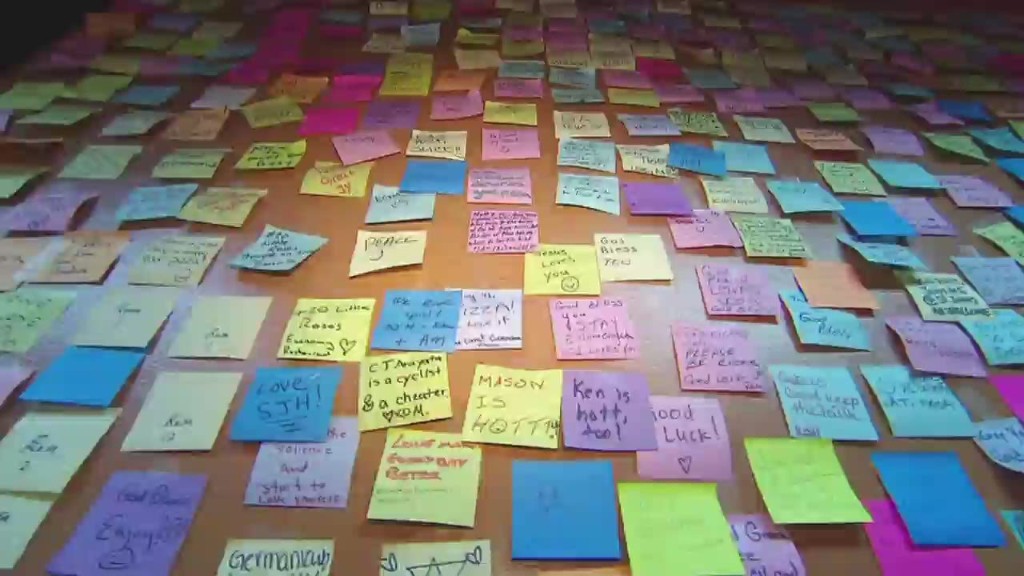 Related: Yum's China fiasco shows danger of food scandals
Uncle Vinnie's is closing: Even some independent pizza owners who have been able to upgrade their stores are closing down.
Fay Fannyan has reinvested nearly $150,000 in recent years to fix up her shop, Uncle Vinnie's Pizza in San Diego.
"Whatever I make, I put it in the place," Fannyan, known by her customers as "Auntie Fay," told CNNMoney.
Unlike other mom-and-pop shops that have been forced out of business by national chains, Fannyan isn't being hurt by competition. She's closing shop on Sunday because her landlord wants a wine-and-beer tasting place instead.
"They're going to leave people with no pizza in my area," she said.
Not for long, at least if Domino's has anything to say about it.