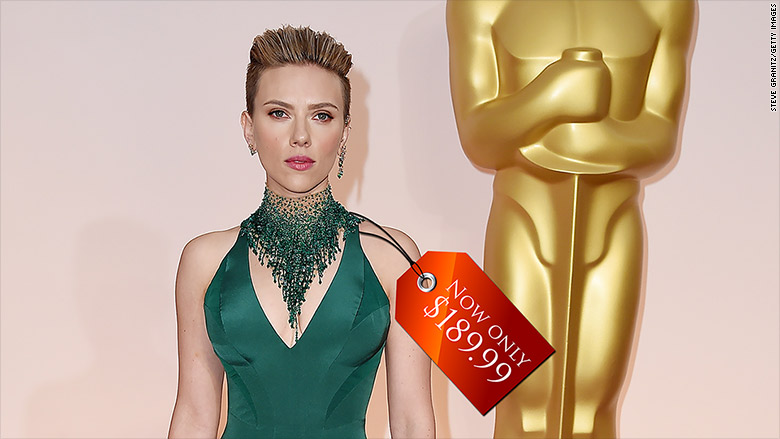 An Oscar gown can easily cost $100,000 or more. But within 24 hours of seeing it on the red carpet, you can purchase a knockoff online for just a few hundred bucks.
In the age of fast fashion, there's an entire industry around creating a celebrity look for less in lightening speed.
"If you love J Lo.'s dress or Julianne Moore's dress or Scarlett Johansson's, you can wear that," said Marshal Cohen, an analyst at NPD Group, a market analysis company that tracks the formalwear industry.
The dress will be a replica, or "Oscar-inspired," and it will cost much less than the original -- usually only a few hundred dollars.
Related: Shopping for luxury brands? Here's how to spot a fake
Cohen said social media has helped move the industry along, because customers no longer have to wait to see the dress in a magazine. It's on live TV, and then on Twitter seconds later, and available for purchase online the next day.
The emerald green dress worn by Scarlett Johansson on Sunday can be purchased today from TheCelebrityDresses.com for less than $200.
These companies copy designs using software that can produce a dress pattern in a matter of minutes, using just a photograph or drawing. "The artistry comes from the operator of the computer rather than the pattern maker," Cohen said. "That's a lost art."
Related: The quirky Oscars red carpet rule that helps ABC
Other companies are busy making "Oscar inspired" dresses.
Clothing company edressme, which used to reproduce affordable versions of red carpet dresses, now focuses on incorporating design details in their collections instead of an exact copy. Their designers watch the show "to see what works and what doesn't, what's fresh and what's 'over,' and use this as inspiration for designing their collections," said Joanne Stoner, CEO and Founder of edressme.
Once a look is finalized, production takes three to six months and most of the dresses cost in the $200-$700 range.
ModCloth, an online retailer with its own lines, also uses inspirations from the red carpet, but the execution is "less literal than most," said senior design manager Liza Gutierrez.
"The pearl bead work of Lupita Nyong'o's and Felicity Jones' dresses are beautiful and we may add this trim aspect to some of our special occasion or bridal dresses," she said.