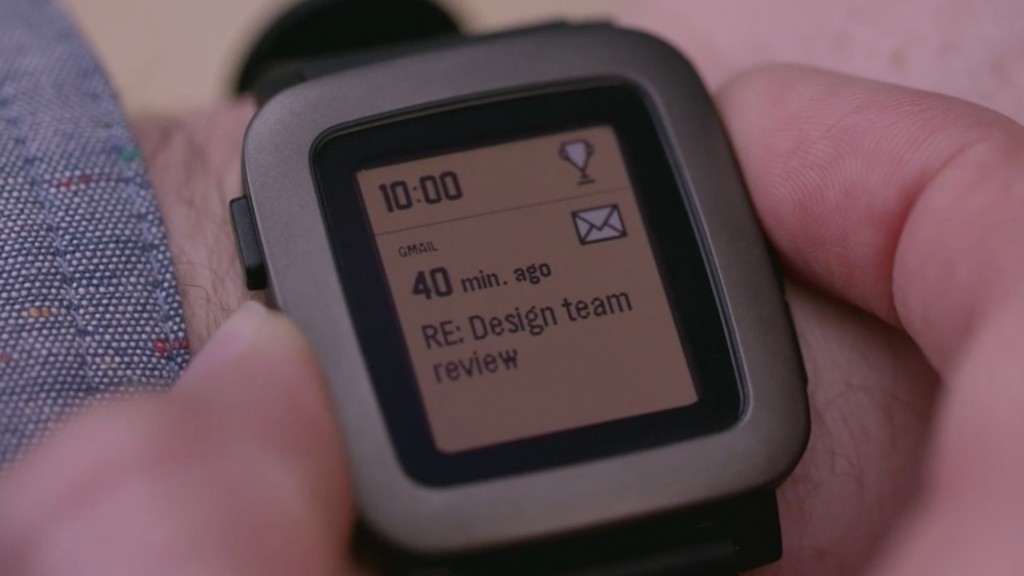 Smartwatch maker Pebble has struck gold twice.
The company started taking preorders for the new Pebble Time smartwatch Tuesday morning on Kickstarter and raised $1 million in 49 minutes, easily setting a new record.
"It's clearly the fastest funding project in Kickstarter history," a spokesperson for the crowd funding site told us via email. The previous record holder was a gaming miniatures project, Reaper Miniature Bones, which received $1 million in pledges in two hours and 42 minutes.
Pebble says the new smartwatch is 20% thinner than its predecessor, and it features a new color e-paper screen. The previous version of the Pebble only came with a black and white screen.
The Pebble Time will have a built-in microphone to perform voice-activated controls and an upgraded operating system that can store more than eight apps (the old Pebble's maximum). The new Pebble software, which will be available for older Pebble watches as well, will also allow information like stock ticker alerts, weather and email notices to be displayed chronologically.
Kickstarter backers can buy the new smartwatch for $179 by funding Pebble's campaign. Pebble offered Pebble Time for $159 to the first 10,000 people who pledged. Two-time supporters will have the option to get the back of the device engraved for free.
"We decided to launch a Pebble Time Kickstarter because we feel it helps connect us directly with the people who helped us start, who believed in us before anyone else did," Pebble's CEO Eric Migicovsky told CNNMoney.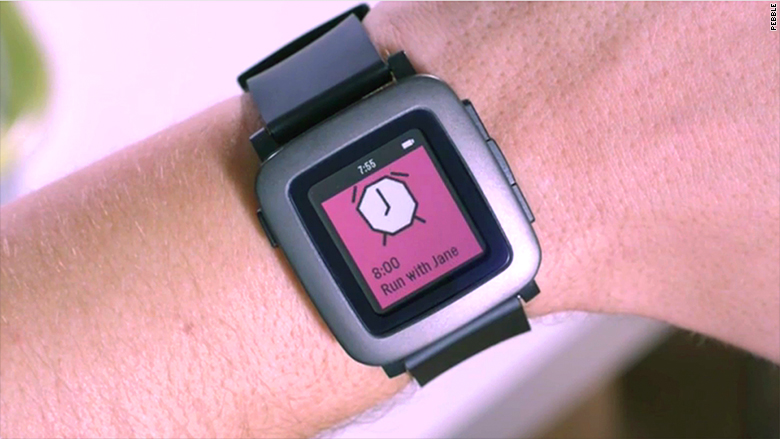 Three years ago, Pebble raised more than $10 million from 69,000 people on the crowdfunding site for its first product, the original Pebble Watch. The company's goal at the time was $100,000. It remains one of the most successful Kickstarter campaigns in history.
This year, Pebble has a $500,000 target for Pebble Time. It's a modest figure considering the success of the Pebble Watch, but setting a lower number to hit means a higher likelihood of reaching it and getting funded. A low funding target and a high response also has the habit of making demand look higher than it really is.
The Pebble Time Kickstarter campaign ends on March 27 and Pebble will start shipping watches to donors sometime in May. After the shipments are fulfilled, Pebble will sell Pebble Time online and with retailers for $199. This is the same price as the company's more elegant Pebble Steel watch, and $100 more than its original Pebble Watch.
This is an interesting time for any company to introduce a new connected device that happens to be worn on the wrist: Apple (AAPL) is expected to sell its first smartwatch beginning in April, and it is expected to sell millions of Apple Watches this year. For comparison, it took Pebble two years to sell its 1 millionth smartwatch.