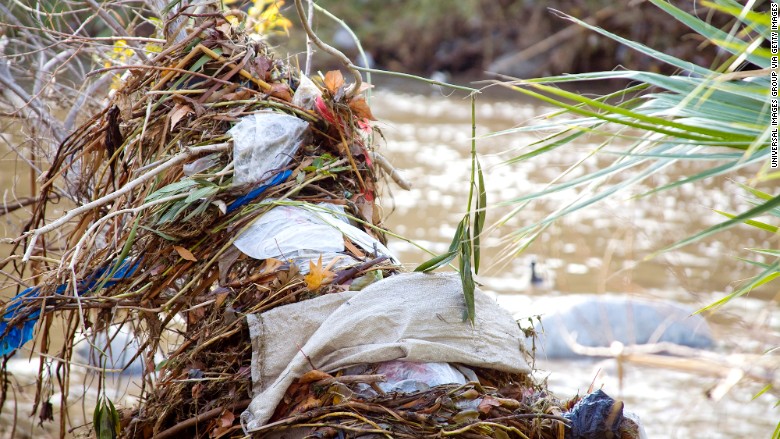 The nation's first state-wide ban on plastic bags has been pushed back more than a year after opponents secured enough signatures to put it to a public vote.
California passed a law last year that prohibits stores from handing out single-use plastic bags for free to consumers. The law was set to go into effect in July.
But the plastics industry and bag manufacturers have been up in arms against it.
On Tuesday, the California secretary of state announced that opponents had secured enough signatures to put the ban to a referendum in November 2016, meaning the ban is effectively on hold until then.
Related: New York City may ban Styrofoam cups
Supporters of the ban say plastic bags are an environmental hazard that end up in waterways and landfills where they don't break down for years.
The ban is also supported by some local officials, who say it will reduce the amount of money sanitation departments spend to clean up litter.
Related: Your reusable bag might save the turtle
The plastic bag industry has spent $3.2 million campaigning against the ban, according to Mark Murray of the advocacy group Californians vs. Big Plastic.
Murray said polls suggest that California voters support the ban, and that many cities in the state have already started phasing out plastic bags.
Related: How green is your state?
Under the law, stores will be required to offer customers recycled paper bags or bags made of compostable material at a cost of at least 10 cents.
Consumers on the government food-assistance program won't have to pay for bags.
California is the first state to ban plastic bags, and Hawaii has local ordinances on its four main islands that prohibit plastic bags.
Several cities and municipalities already have passed similar laws. San Francisco became the first major U.S. city to ban plastic bags in 2007. Los Angeles announced a ban earlier this year, along with Seattle, Chicago, Portland, and Austin.
The American Progressive Bag Alliance, a group that represents the plastics bag industry, were thrilled that the state ban has now been pushed to a referendum, more than a year away.
"California voters will now have the chance to vote down a terrible law," said Lee Califf, director of the pro-plastic bag group.
The group has argued that the ban would kill manufacturing jobs and is a gift to big grocers, which would be able to charge customers a few cents for paper bags under the law.
According to the plastic bag industry group, more than 800,000 signatures were submitted and the county registrars office verified that more than 500,000 were valid.
However, supporters of the ban have asked California's attorney general to investigate how the signatures were obtained. They allege that signature gatherers misled voters by characterizing the ban as a tax or suggesting that signing the petition would advance the ban, not repeal it.