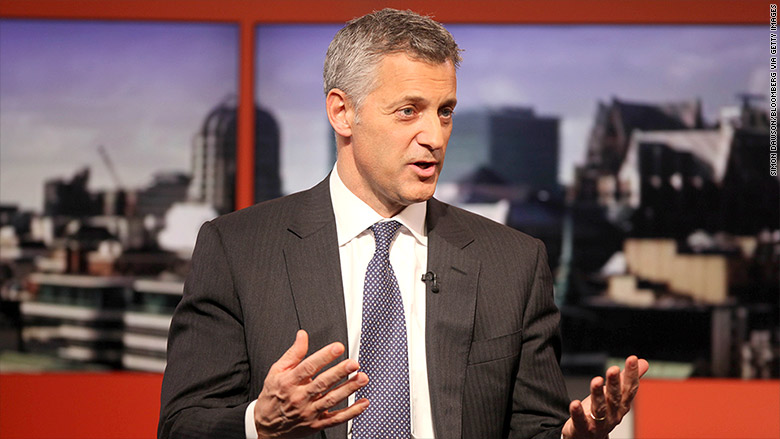 Bill Winters, the former co-head of JP Morgan's investment bank, has just scored a new gig as CEO of Standard Chartered.
The appointment is part of a management shake-up that will see a number of top executives and boards members leave.
Standard Chartered (SCBFF), which is based in the U.K., makes the vast majority of its money in emerging markets in Asia, Africa and the Middle East.
Shares in the bank have roughly halved since late 2010. The bank issued three profit warnings in 2014. In January it cut 4,000 jobs just months after being hit with a $300 million fine for failing to meet the terms of a money laundering settlement with the state of New York.
Investors had reportedly been calling for the current CEO, Peter Sands, to leave.
Shares in Standard Chartered jumped by as much as 3.5% in early London trading after the announcement came out.
The bank's largest shareholder, Singapore-based investment firm Temasek, was quick to applaud the "management succession" plan.
"[Winters] brings with him considerable experience as well as an excellent reputation for building good teams," Temasek said in a statement.
Once tipped as a possible successor to JP Morgan (JPM) CEO Jamie Dimon, Winters was ousted in 2009 after 25 years with the Wall Street powerhouse.
Winters, 53, will be paid a base salary of nearly £1.2 million ($1.8 million), plus plenty of additional perks and bonuses, when he joins Standard Chartered later this year.
That's a far cry from the $21.2 million he earned at JP Morgan in 2007, the year before the financial crisis exploded.
Standard Chartered is scheduled to report 2014 earnings next week.