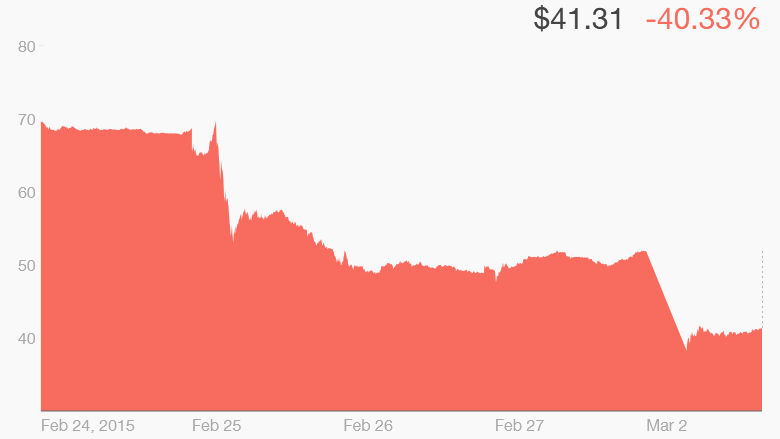 A report on CBS' "60 Minutes" has knocked the floor out from under Lumber Liquidators.
The report by CNN's Anderson Cooper revealed Chinese-manufactured laminate flooring sold by the company contains high levels of the cancer-causing chemical formaldehyde.
Lumber Liquidators (LL) plunged more than 25% Monday. Until about 11 a.m., the stock was halted from trading.
That's after the stock lost more than a quarter of its value -- 26% -- last Wednesday when the CEO warned investors of an upcoming report on the show that would portray the company "in an unfavorable light."
Lumber Liquidators has 352 stores in the U.S. and Canada.
The '60 Minutes' report cited lab tests performed for an environmental and consumer protection nonprofit that found some samples of laminate flooring contained very high levels of the chemical.
Some pieces had six to seven times the level of formaldehyde allowed under California law, according to environmental attorney Richard Drury, who was interviewed by "60 Minutes." Others had 20 times the limit.
A doctor told CBS long-term exposure to chemicals at those levels "would increase the risk for chronic respiratory irritation, change in a person's lung function, increased risk of asthma" and be especially dangerous for children.
The suspect flooring is in "hundreds of thousands" of homes nationwide, according to Drury.
Some investors, like the well-known hedge fund manager Whitney Tilson, have bet against the company's stock. So they stand to profit when the stock price falls.
"In 16 years of professional money management, I've seen hundreds of companies do all sorts of bad things to get their stock prices up. But this has got to be the worst," Tilson told "60 Minutes."
Lumber Liquidators responded to the report Monday, saying that it is "a leader in safety."
"We comply with applicable regulations regarding our products, including California standards for formaldehyde emissions for composite wood products -- the most stringent rules in the country," the company said in a statement said. "We stand by every single plank of wood and laminate we sell all around the country."
The company claimed its critics are greedy investors seeking to make money off of the company's misfortune.
Lumber Liquidators' products have long been viewed skeptically by environmentalists. It has been accused of illegally sourcing wood, and those accusations may be behind a 2013 raid on its headquarters.