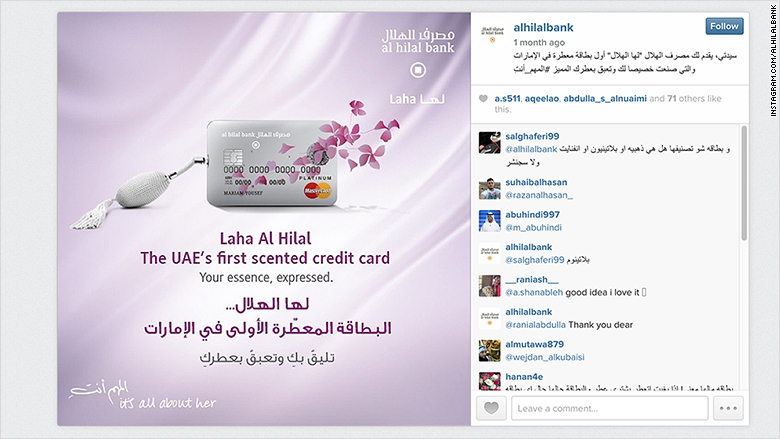 If the smell of money isn't alluring enough, an Abu Dhabi bank is marketing scented credit cards to women in the Middle East.
Al Hilal Bank recently released a credit card with a built-in "applet" that absorbs the smell of perfume, aimed at attracting female customers. The card also comes with a nicely boxed signature scent and a number of perks, from discounts for female-centric brands to airport lounge access.
The bank said that the card was designed for "young, ambitious and empowered women" as a way to stand out.
"Today's modern Emirati woman wants to send out a strong message about her individuality and her capacity to become a productive member of society while staying true to her heritage," said Mariam Yousef Ahli, Al Hilal Bank's head of corporate communications, in a press release.
Related: The richest women around the world
The scented cards are part of wave of ways banks are targeting female customers, offering products and services geared specifically toward women.
Last summer, Mashreq Bank released a diamond-encrusted Solitaire card, which, aside from the bling factor, comes with benefits like personal shoppers, access to invitation-only previews of luxury brands' latest collections and benefits that can be redeemed with brands like Mulberry, Michael Kors and Carolina Herrera.
The bank also came out with a "selfie" credit card, which allows users to upload photos of themselves from their phones and have them printed on their cards.
According to Mary Dean, founder of KickSkirt, an advertising agency specializing in marketing to women, these cards are enticing because they allow women to express individuality.
"Because women are often covering themselves, these cards are another way to express that they are successful, that they're special, that there is something premium about them," she said.
Related: American Express to raise credit card rates
Over the last decade, the UAE saw a spate of women's banking initiatives. Banks like Johara, a subsidiary of Dubai Islamic Bank, began opening branches with female bankers and tellers, catering to the specific banking needs of women, including special credit cards and auto financing offerings. Other women-only banks in the Middle East have thrown in valet parking at shopping malls, access to women's clubs and preferred credit card rates along with more traditional banking options.
More Middle Eastern women, especially in Dubai, make their way up corporate ladders and start businesses of their own. Women who have inherited wealth from their families are also looking for a way to keep their fortunes for themselves, according Dean.
"With the banks, they want to make sure that they trust their financial advisers to be loyal to them, not to their family or their husbands," she said.