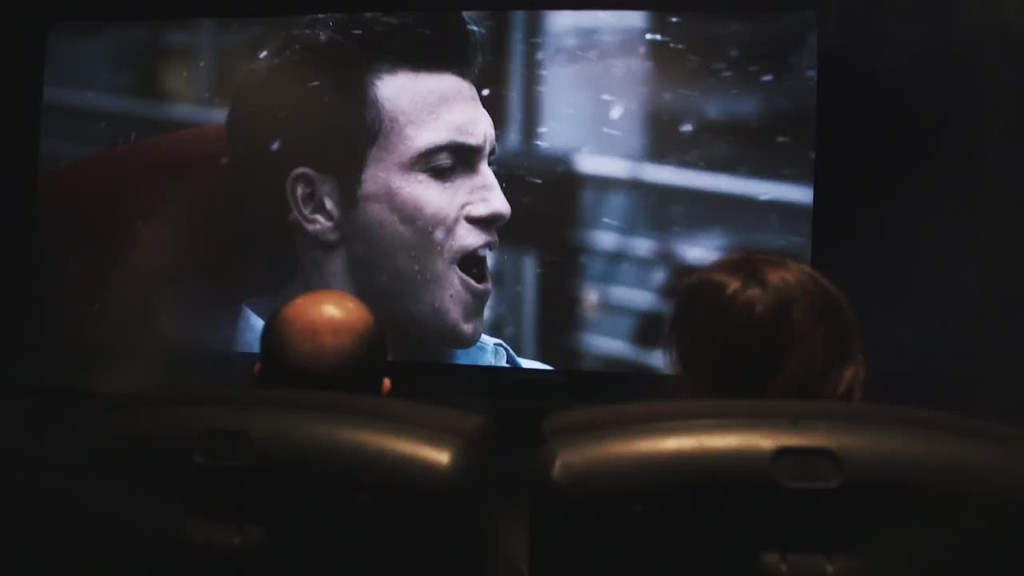 Move over Hollywood! There's a new star stealing the spotlight -- China has beaten the U.S. for the first time in monthly box office sales.
China brought in $650 million in box office revenue for February, surpassing sales in the U.S. of $640 million, according to EntGroup, a Chinese entertainment research firm. Chinese theaters pulled in $282 million during the week of Lunar New Year, a popular movie-going period.
The top grossing Chinese film, "The Man From Macau II," starring Hong Kong actor Chow Yun Fat, brought in $104 million. Action film "Dragon Blade," with Jackie Chan, John Cusack and Adrien Brody, came in second at $95 million.
Chinese moguls have been making significant investments in the country's entertainment industry, looking to cash in big on the fast-growing market.
In 2013, Chinese billionaire Wang Jianlin -- who owns U.S.-based AMC Cinemas -- invested $8.2 billion to create a Chinese version of Hollywood. When complete, the Qingdao Oriental Movie Metropolis will boast massive film and television studios, production facilities, theme parks and hotels.
Related: Why China's Tencent wants to own Beyonce online
Even tech tycoons are recognizing how much money can be made in entertainment. Alibaba (BABA) co-founder Jack Ma has reportedly met with Hollywood executives, and his company has struck deals with Lions Gate (LGF) to stream popular U.S. shows such as "Twilight" and "Mad Men." Rival company Tencent (TCEHY) has struck similar deals to distribute hit shows in China.
Chinese moviegoers also love foreign films -- "Transformers: Age of Extinction," which was shot extensively in China, was a smash success.
But it remains a tricky place for foreign filmmakers. Chinese regulators only allow 34 foreign films to be show in theaters each year, limiting access to the latest Hollywood blockbusters. Approved films still face the heavy hand of government censors, who cut anything the Communist Party considers offensive or subversive.