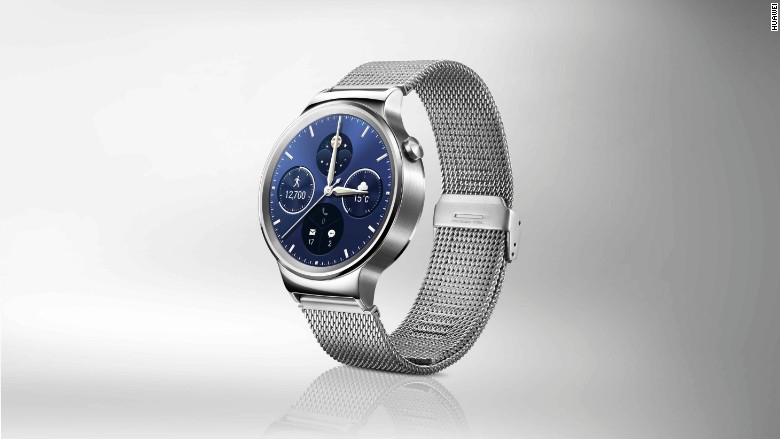 Another tech conference, another new smartwatch.
The latest offering comes from China's Huawei, which released the conventionally named "Huawei Watch" at the Mobile World Congress in Barcelona.
The company's first smartwatch features a 1.4-inch touch-sensitive display, scratch-proof lens, steel frame and heart rate monitor with motion sensor. The device runs on Android Wear software.
That's all pretty standard. But two things make the Chinese product stand out from much of the competition: personalization and style.
Huawei says the watch will come with more than 40 different faces and a slew of band options. Colors include gold, silver and black.
The style of the face -- from what we've seen so far -- takes its design cues from an authentic luxury timepiece. It joins the new LG (LPL) Watch Urbane as one of the few smartwatches on the market with classic styling.
Related: LG's new smartwatch is more Patek Philippe, less Pebble
Huawei is a telecoms company based in China. It's a major player in computer networking, government and mobile communications. Recently, the firm has made a big push into consumer electronics.
Apple (AAPL) is expected to release more details about its own watch soon. The company is holding an event on March 9, where it is likely to give an update on the wearable gadget's latest features, pricing and availability.