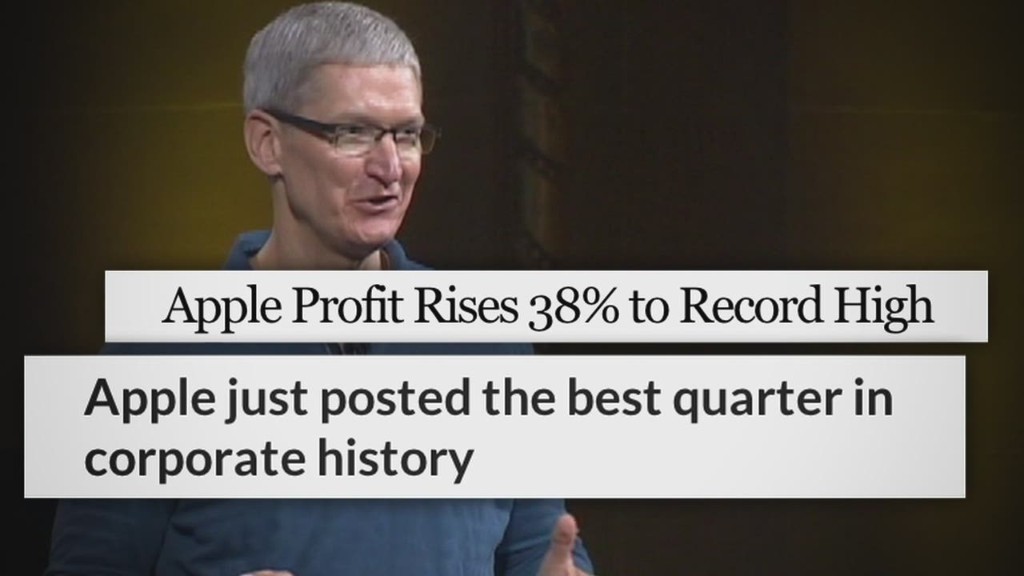 Being an Apple fan has paid off handsomely for Alex Gerb.
He doesn't just own the products, he owns the stock. He's made close to $50,000 since he first bought Apple shares in 2007.
While working his way through college in Maryland, he took all the money he had to his name -- about $4,000 -- and bought the stock. Friends thought he was a little nuts. Now they kick themselves for not following his lead.
The first iPhone captivated him. He lined up when they went on sale and traveled to Europe about two weeks later. People kept coming up to him on the streets of London wanting to touch it since it wasn't available there yet.
"I said, 'Oh my God, this is going to be huge,'" Gerb said, speaking to CNNMoney on his current iPhone 6 Plus.
Over time, he has added to his Apple stake, holding it in both his retirement account and his "play money" brokerage account. He estimates Apple stock makes up close to 45% of his investment portfolio.
"I'm sure any financial adviser would say I'm nuts. They would say diversify, but I trust in Apple," Gerb says.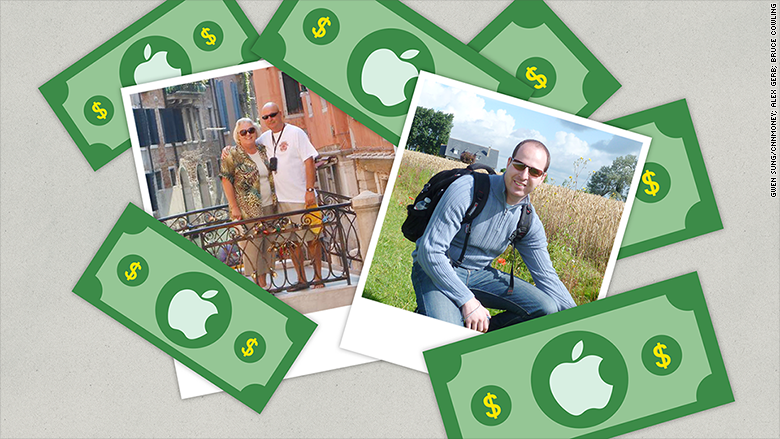 Related: Apple: First U.S. company worth $700 billion
Apple as Social Security: Gerb is hardly alone. Apple is one of the most popular stocks on the planet. People are making big money off the stock's phenomenal rise in the last decade.
In January 2005, the stock was trading for around $5 a share. Today it's worth about $130 a share and is the most valuable company in the world.
Bruce Cowling, a 64-year-old retiree in Florida, is a more recent Apple enthusiast.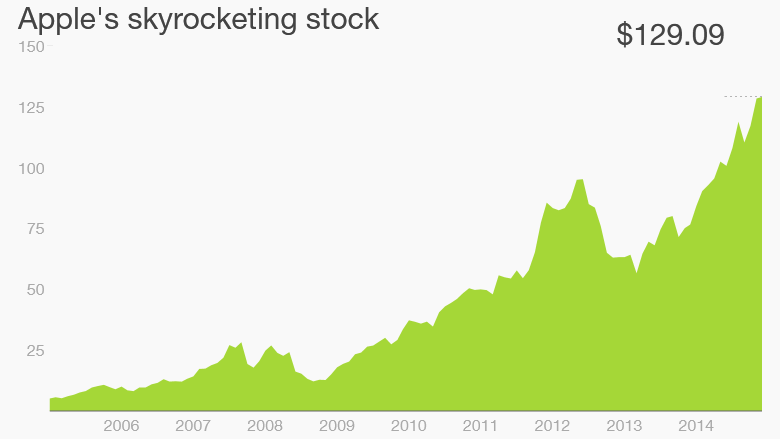 When Cowling started collecting Social Security in September 2012, he invested most of the money in Apple stock.
He was fortunate to have a pension after many years working for the state government in Pennsylvania and being frugal. He and his wife didn't need the Social Security money right away, so they looked for somewhere to put the cash and grow it in the hopes of giving some of it to their children one day.
Cowling follows the company religiously now. He has bought an Apple TV and MacBook. He's skeptical about the rumors of Apple getting into the car business, but he thinks the watch and latest iPhones have a lot of room to run.
Share your story: How did you start investing?
"I still think they will make a lot of money off the iPhone, and, of course, they make a ton of money in China," he says.
Today he owns about 1,225 shares of Apple stock and has earned a net profit of around $45,000. It's all unrealized gains at this point, since he's not planning on selling any time soon. A number of Wall Street analysts predict the stock will climb to $150 or higher.
Crowling's only complaint? Apple's skimpy dividend.
Related: 11 stocks hedge funds and mutual funds love now
Why I sold Apple: It's a similar gripe from other retirees who hold Apple stock and depend on that income. Apple does pay a 1.5% dividend (tech companies aren't known for big dividends), but that's small relative to other stocks.
Hedge fund titan Carl Icahn has repeatedly pushed Apple to give more money back to shareholders through a bigger dividend or share buyback.
Randy Anglin, a 65-year-old retiree in Missouri finally got so fed up waiting for Apple to return some of its $175 billion in cash to shareholders that he sold the stock in December when it was trading around $110. He still made about a 30% return on his investment -- real money -- since he held it for many years.
"I rode Apple to highs up to $700 and down to $386. I still remember that. I bought more Apple stock in 2013," he told CNNMoney.
But he realized that he also owned mutual funds. Since Apple is the biggest public company on the planet, many of his funds also had large stakes in Apple. He ran the numbers and realized that Apple stock was nearly 20% of his portfolio. That's a very, very big bet on one company.
"I didn't really part ways with Apple, I just parted ways with a chunk of it," he says. "If Apple had a 4% or 5% dividend, I would jump back in."