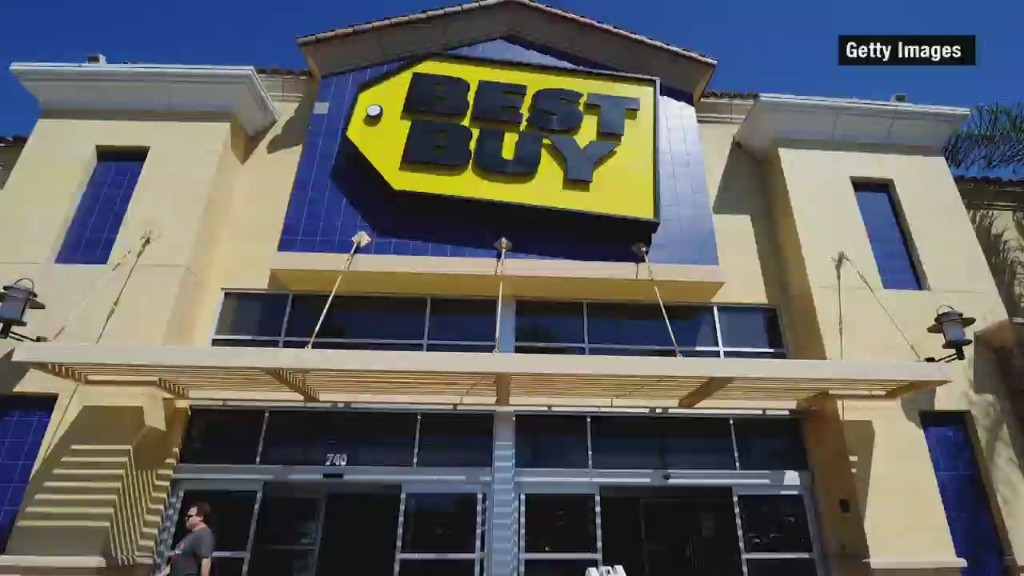 Best Buy is not RadioShack. It's turnaround is legit.
Shares of Best Buy (BBY) were up 2% Tuesday morning after the company reported fourth quarter earnings that topped forecasts and a solid jump in same-store sales.
The big sellers during the holidays? Big TVs and smartphones. Best Buy definitely owes a debt of gratitude to Apple (AAPL) for its success in the latter category. The iPhone 6 and 6 Plus clearly helped get people into Best Buy stores.
And Best Buy is confident that the company will continue to do well. It announced a special one-time dividend payment for shareholders. (Christmas in March!)
It also boosted the size of its regular quarterly dividend and announced plans to buy back stock.
Related: Best Buy is one of 10 stocks we love
What a turnaround: It's been a stunning change of fortune for Best Buy over the past few years. Since CEO Hubert Joly took over in August 2012, the stock has soared nearly 130% -- easily outpacing the gains for the S&P 500 and the SPDR S&P Retail ETF (XRT). Shares are up 50% in the past 12 months alone.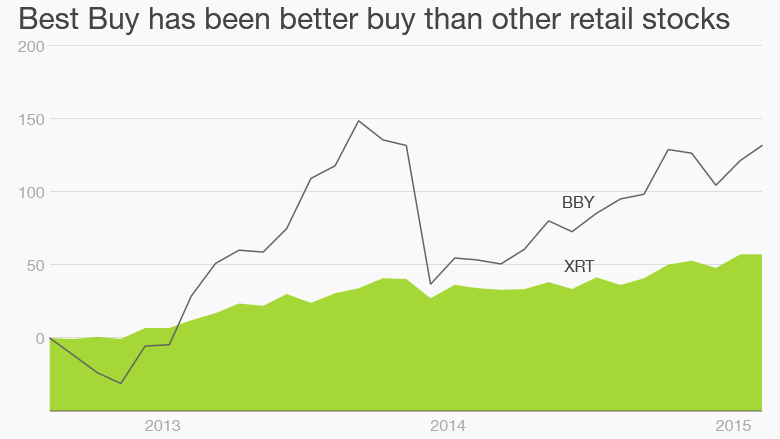 Best Buy did stumble in the fourth quarter of 2013, leading some to wonder if the company was coming up short in its efforts to compete with Amazon (AMZN) and bigger brick and mortar retailers like Walmart (WMT).
But Best Buy is clearly proving the doubters (which used to count me in their camp) wrong.
Can Best Buy keep the momentum going? The company reiterated that this fiscal year could be a bit of a challenge. The stock plummeted 15% in January when it first provided this outlook.
There are concerns that prices for some gadgets will fall throughout the year, which could hurt profit margins. Analysts are predicting relatively little growth in earnings per share this year.
Related: Best Buy tells Amazon: Take that!
Best Buy said Tuesday it plans to cut costs by $400 million over the next three years. That should lift earnings.
But given how sharply the stock has rebounded, it may be tough for Best Buy to go substantially higher until it starts to post much stronger gains in profits and sales.
It's fair for critics to also point out that Best Buy is, in many respects, merely a reflection of the product cycle in tech. The company is only as good as the gadgets that are out on the market.
Apple isn't going to have another new iPhone for a while. Will the Apple Watch be something that gets customers to flock to the stores in the spring and summer? That remains to be seen.
Related: RadioShack to sell name with opening bid of $20 million
Still, Best Buy has done much of the hard work to get back on track. Its balance sheet is in much better shape than RadioShack's was just before it finally succumbed to bankruptcy.
Best Buy finished its most recent fiscal year with $3.9 billion in cash ... up from $2.6 billion at the end of 2013. And it had just $1.6 billion in long-term debt, down a bit from a year ago.
So it's finally time to stop listing Best Buy among the group of struggling and endangered retailers. The turnaround isn't complete yet. But the worst days definitely appear to be behind it.