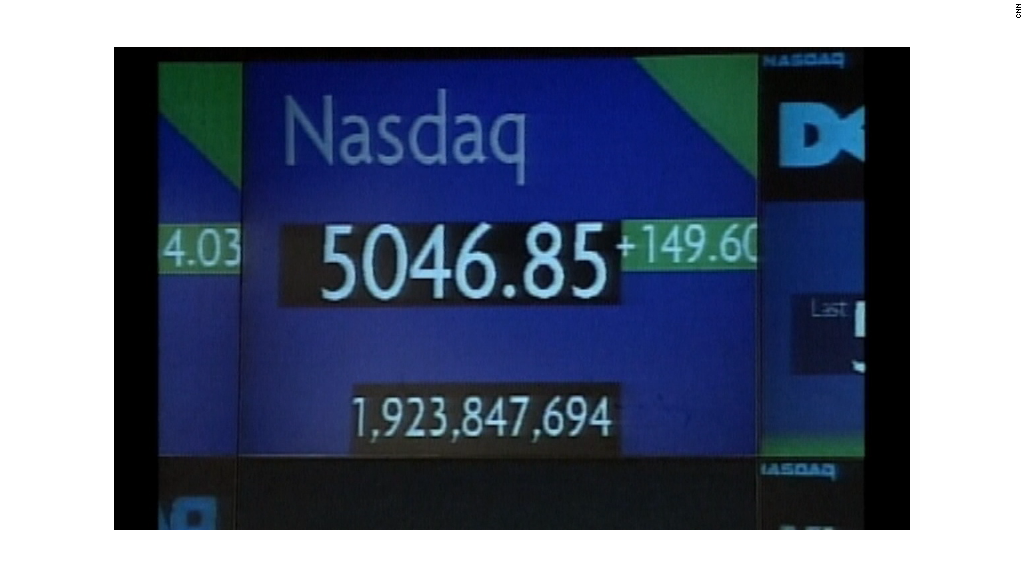 The Nasdaq is back at levels it last hit in those glory days of March 2000.
That's great news for anyone who really took the lonnnnng view and held on to Nasdaq stocks for the past 15 years.
It's even better if you were lucky enough to own some of the index's biggest winners, such as beverage companies Monster (MNST) and Keurig (GMCR), agricultural equipment retailer Tractor Supply (TSCO), biotech Gilead Sciences (GILD) and that little tech firm called Apple (AAPL).
Related: Apple stock is making regular Americans rich
But there are some prominent Nasdaq stocks that have no reason to be celebrating the return of Nasdaq 5,000 on Monday.
They are still WAY below the prices they fetched back in the days when Cisco (CSCO) ruled the tech world ... and Sisqó ruled the airwaves with that silly (but insanely catchy) "Thong Song."
Waiting for a full recovery: Cisco, in fact, is among the Nasdaq's bigger dogs of the past 15 years. Shares are more than 56% below their March 10, 2000 closing price. That was the day the Nasdaq had its record close.
To be fair, Cisco is a much healthier company today than in 2000. It is now one of 30 companies in the Dow and has successfully moved into new markets like video, security and cloud software.
In February 2000, Cisco reported quarterly sales of $4.35 billion and a profit of $825 million. It had $4 billion in cash. (Or "caysh" if you pronounce it like CEO John Chambers ... who was there in 2000 and is still CEO today.)
Last month, Cisco reported sales of $11.9 billion and earnings of $2.4 billion. And it is now sitting on $53 billion in cash.
Related: Keep track of Cisco and other stocks in CNNMoney's Tech30 index
Cisco was just overvalued back in 2000. Plain and simple.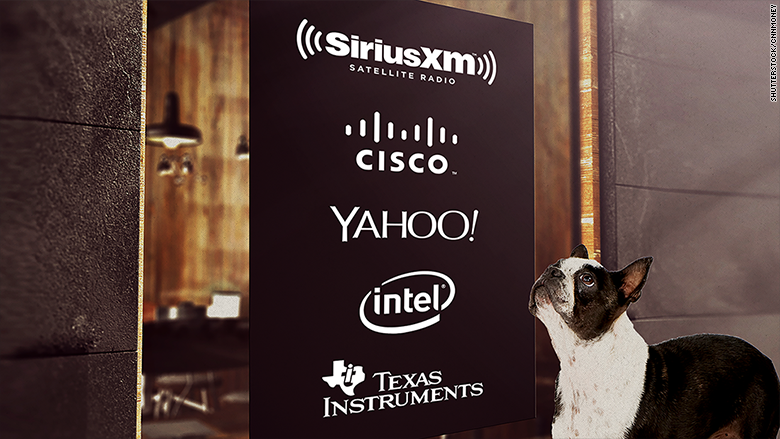 Several other blue chip techs are nowhere near their March 2000 prices. But like Cisco, they are stronger companies now.
Chip leaders Intel (INTC), Texas Instruments (TXN) and Micron (MU), which are all more than 35% from their March 2000 levels, are in that camp. Could they ever make up all the ground they lost since 2000? It's possible.
You cannot be Sirius! Then there are several other younger companies that may never get back to the levels they were at in 2000.
Satellite radio firm Sirius XM (SIRI) is more than 90% below where it traded at 15 years ago. That was before Sirius and XM merged.
The good news is that Sirius is profitable and sales are growing. It also survived a near death experience.
Things looked bleak for Sirius back during the Great Recession. The stock was trading for just a nickel a share at its low point in early 2009. It's now all the way back to $4 -- an amazing return.
Related: The biggest dot-com flops
And even though it still faces threats from traditional radio as well as streaming services like Pandora and Spotify, Sirius has done a great job of tying its fortunes to the auto market.
But there aren't enough cars -- and Howard Stern fans driving them -- on the planet to get the company back to where it was in 2000.
Startups have grown up but still haven't caught up. Akamai (AKAM) and Broadcom (BRCM) both went public in the late 1990s and got swept up in tech stock euphoria.
The valuations were insane since they were unproven companies 15 years ago. Both are now profitable and generating billions in sales a year.
Akamai is a leader in web content delivery and a perennial takeover candidate. Broadcom develops wireless chips and, like many other companies. is moving aggressively into the Internet of Things/connected devices market.
But they are each more than 70% below the prices they traded at in 2000.
Yahoo still searching for the right plan. Finally, there is Yahoo (YHOO). It trades more than 50% below its March 2000 level.
The company has changed a lot since then. It has had eight CEOs in the past 15 years. It's the Silicon Valley equivalent of the Bronx Zoo era New York Yankees in the 1970s and 1980s.
Even though current CEO Marissa Mayer seems to have the right formula in place to fix Yahoo with a focus on mobile content, the company is still stuck in the turnaround mode it has been in for years.
Related: Why this tech party isn't like 1999
Revenues have fallen in five of the past six years. And in the one year they weren't down, they were merely flat.
Related: Yahoo through the years
Yahoo just celebrated its 20th anniversary. For it to thrive during the next 20, it's going to need to find a way to steal more digital ad sales from Google (GOOGL) and Facebook (FB).
Otherwise, it will be forever destined to remain on lists about tech stocks that have yet to fully recover from the 2000 implosion.