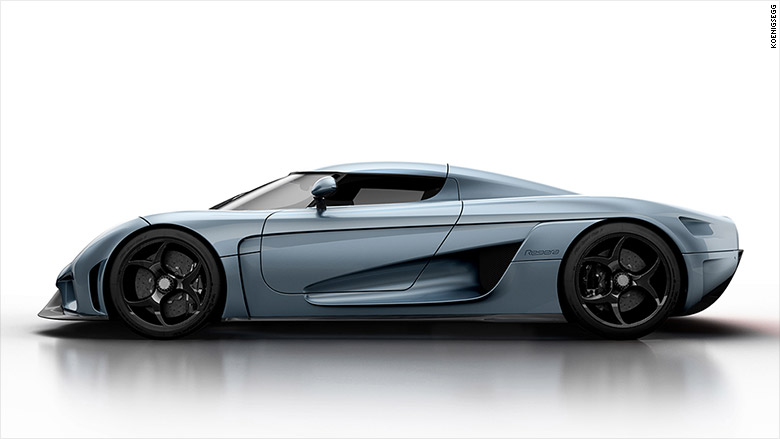 It looks like a Transformer, has 1,500 horsepower and can go from zero to 248 miles per hour in less than 20 seconds.
It's the new super hybrid Regera that Swedish car maker Koenigsegg unveiled at the Geneva Auto Show on Tuesday.
Regera means "to reign" in Swedish and the car is due to go in production later this year. Deliveries are expected to start next year.
But only 80 of the cars expected to be built over the next five years, and the price tag is expected to be about $1.9 million each. The company has already started taking orders.
It is notable for the lack of a traditional gearbox and transmission, which were eliminated partly to reduce weight and improve performance.
Its battery pack is also smaller and lighter but also more powerful than those found in other electric or hybrid cars. The battery fuels three electric motors that help power the car. There's also a V-8 gasoline engine.
The batteries are cooled by the car's air conditioner. The car also has multiple exhaust systems: The center exhaust at the rear of the car expels only hot air from the batteries and electrical motors, and dual side exhausts handle fumes from the V-8.
Related: Hot cars from the 2014 Geneva auto show
Speed like the kind this car produces requires serious stopping power. The Regera has a retractable wing in the rear that can deploy and slant up to help slow the vehicle -- much like how a jet plane slows when it lands on a runway.
The company plans for a smartphone app that will open the scissor doors, front and rear hoods, and wings. Those features give the car the look of a transformer when all are opened at once.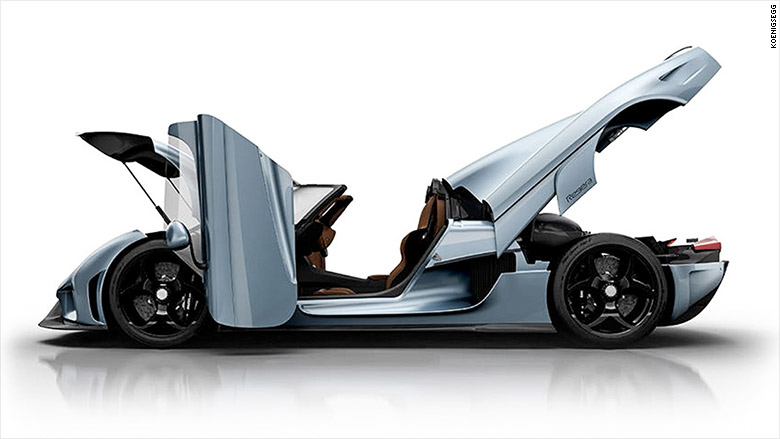 The car is designed by Swedish car designer Christian von Koenigsegg, who is well known in the industry for his ultra-high-end performance cars.
His cars are so powerful that even Koenigsegg himself doesn't drive them on a regular basis. A spokesman for the company said Koenigsegg's own day-to-day car is a Tesla Model S.