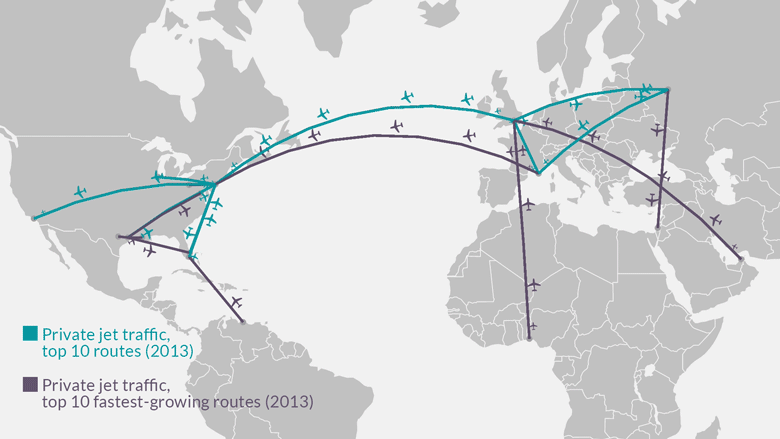 If you see a private plane in the sky, there's a pretty good chance it's coming from -- or heading to -- New York City.
Of the most traveled private jet routes in 2013, seven out of the top 10 were flown either in or out of New York, according to Knight Frank's Wealth Report.
While jet setters were jumping in and out of the big apple most often, the report found that the most popular route was the trip from Moscow to the Cote d'Azur in the south of France.
The ranking of routes is based on data from NetJets, a subsidiary of Berkshire Hathaway (BRKA) that allows customers to charter or partially own private planes.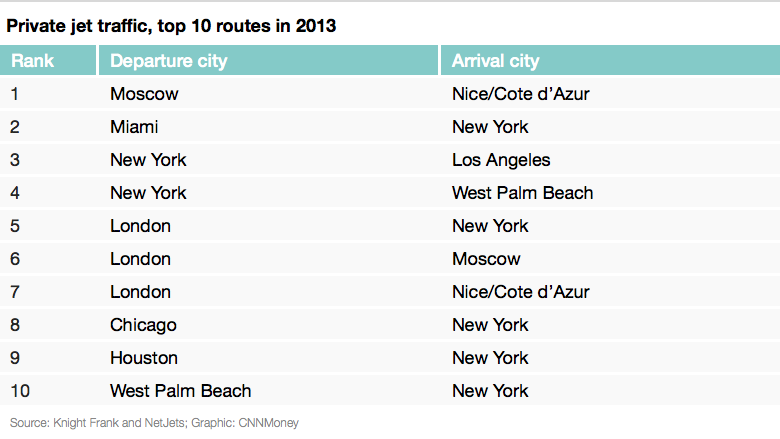 About 60% of private jet traffic starts and ends in the U.S., the report showed, mostly centered around New York, Miami and Palm Beach. Europe follows, with customers mostly traveling between London, the south of France and Moscow. The Middle East is the third-largest market. Once China relaxes its regulations around private aviation, the report's authors expect traffic to explode in the region.
Related: Why flying stinks and you're still paying more
When it comes to what routes were fastest growing in 2013, the list gets a bit more unexpected. The fasted growing route was from the Cote d'Azur to New York, followed by Maiquetia, Venezuela, to Miami.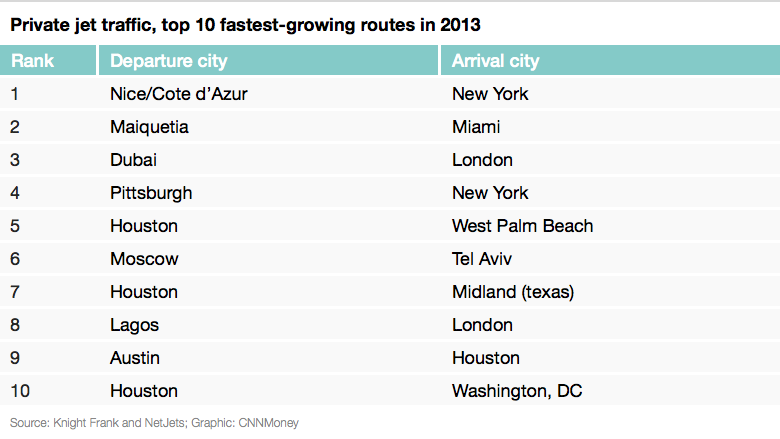 According to Liam Bailey, Knight Frank's global head of research, there's an obvious strong link between major business hubs. But the link between New York and the south of France has more to do with Russian business owners mixing business with pleasure.
"There are so many Russians who own properties in the south of France who frequently travel to the U.S. and London for business," he said.
But these flight routes are gaining popularity mostly due to the continued internationalization of business, according to Marine Eugene, executive director of NetJets Europe.
"We're seeing air crafts really go around the globe," she said. "The long-range activity has been really resilient."
Related: Fly business class to London for 50% less
Houston is a standout on the list, showing up in four out of the top 10 fastest-growing routes.
Wheels Up, another company that allows customers to rent out seats on private planes, is also experiencing hyper-growth in the Texas market, said Kenny Dichter, founder and CEO. They currently have four planes stationed in Texas to meet demand, but they plan to add more in 2015.
Dichter said that most of the flights out of Texas are for business purposes, not leisure. And about half of private fliers are people who've switched over from commercial flights.
"With reasonable hourly rates, it's created a value proposition that's moved people off their commercial options and onto private," he said.
Wheels Up is also seeing a lot of growth in quick commuter routes, like New York to Boston or D.C., or within Texas. Dichter explained that's because commercial tickets for these short flights can often skyrocket to close to $1,000, especially on short notice.
"When prices approach those levels, business people who are traveling with three or four colleagues start say, why wouldn't we fly private for close to the same price?" he said. "It saves on airport time, plus the flights have WiFi so they're connected."
Not included on the fastest-growing list, but still experiencing huge demand, were sunny and snowy vacation destinations in Europe. According to the Knight Frank report, Ibiza saw a 17% increase in traffic over 2013, with similar increases to places like the Maldives and the Seychelles. Trips to ski towns like Verbier, St. Moritz and Courchevel also saw high levels of growth.
While the data is for 2013, NetJets' Eugene said that the fastest-growing list pretty much holds, with one exception: Travel to and from Russia has taken a hit since this summer, when the crisis with Ukraine heated up. Since then, the market there has seen a 15% decline in traffic to and from the country.