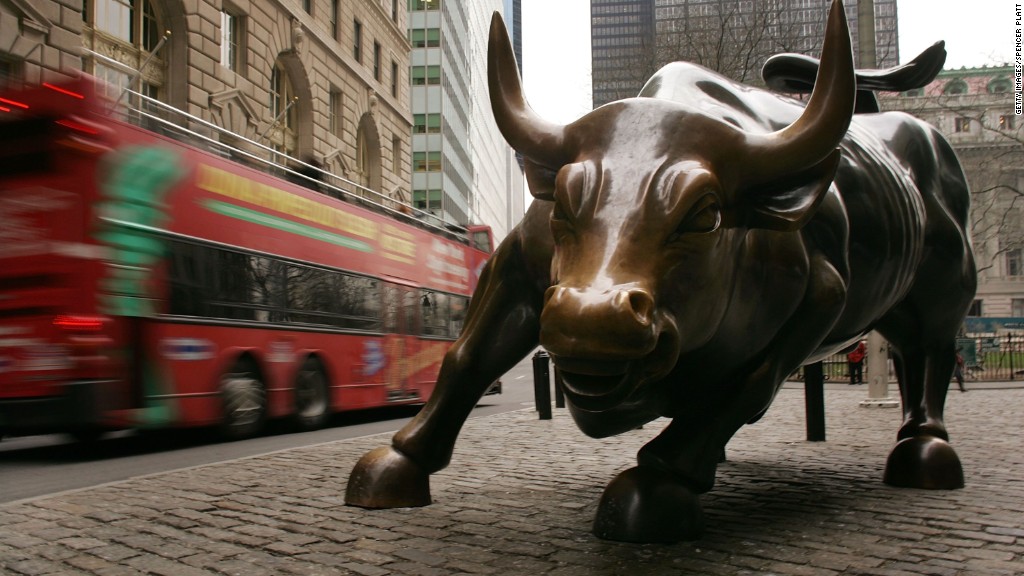 If you put money in stocks at just about any point in the past six years, you're probably pretty happy.
America is in the midst of the fourth longest stock market expansion in history.
Monday marks the six-year anniversary of the day the S&P 500 hit its low point after the financial crisis. Since then, the index has risen over 200%.
But that stellar return is just an average. Some stocks have had far worse performance and some have led the pack.
Consider Apple (AAPL). It's the poster child of the market's phenomenal success. It's increased almost 1,000% since March 2009. But that's actually good enough for only 40th place among the 500 stocks that make up the index.
Had you invested in an American mall company (yes, you read that right), a biotech firm or a certain big brand retailer, you would have seen skyrocketing returns well over 1,000%.
Here's are the six stocks with the biggest bounce since the market bottomed out:
6. CBS: 1,921% return
Price on March 9, 2009: $3.09; Price today: $62.46
America's No. 1 broadcast network has soared to success in the stock market. Its shows "NCIS," "Big Bang Theory" and "60 Minutes," are routinely at the top of broadcast ratings, according to Nielsen.
CBS (CBS) also has big contracts with the NFL, and just signed a new deal for Thursday Night Football for next season.
CBS has a big transition ahead this year as David Letterman passes on the "Late Night" baton to Stephen Colbert.
Related: Thursday Night Football returning to CBS for 2015 season
5. Under Armour: 2,327% return
Price on March 9, 2009: $3.11; Price today: $75.51
One word: swish.
Under Armour (UA) is one of the big growth stories of the last decade. It wasn't hurt as much by the recession as others, and it's been dunking on the competition since 2009. It has signed big-name All-Stars like Stephen Curry to endorsement deals, and CNNMoney named CEO Kevin Plank among the top 5 performing execs in America last year.
Related: The face of Under Armour's basketball shoe: Stephen Curry
4. Wyndham: 2,858% return
Price on March 9, 2009: $3.10; Price today: $91.70
Sin City casinos are getting hit hard these days from their business abroad in China. But Wyndham (WYN) stayed stateside and relies on the U.S. for most of its business. It's proof that Las Vegas can still be a great place for business.
Wyndham's stock tumbled during the recession as Americans reeled in spending, but shares have surpassed the pre-crisis peak and are now near an all-time high.
3. United Rentals: 2,947% return
Price on March 9, 2009: $3.03; Price today: $92.34
United Rentals (URI) is another reborn stock. It's the world's largest equipment rental company. As the economy has picked up steam, so has United. People are hosting more events and looking to borrow more equipment.
Related: Las Vegas casinos are losing big in China
2. Regeneron Pharmaceuticals: 3,230%
Price on March 9, 2009: $12.40; Price today: $413.04
The question isn't what is Regeneron (REGN), it's who was the genius who invested in Regeneron a few years ago?
The biotech company is led by Leonard Schleifer, a doctor turned billionaire and savvy deal maker. Regeneron changed the game in 2011 with a new treatment that restores vision in older adults called Eylea. The treatment brought in $840 million in sales in its first year alone.
Regeneron exemplifies why biotechs are one of the hottest stocks in the market right now.
1. General Growth Properties: 9,903% return
Price on March 9, 2009: $0.29 ; Price Today: $29.01
Who said America's Malls are dying? The comeback kid of the markets is General Growth Properties (GGP), which owns malls. Its stock fell off a cliff and into the sea of penny stocks in 2009. It's quickly pulled its way back up with a return of nearly 10,000% (it's actually close to 11,000% if you would have reinvested dividends over the years).
But here's a telling footnote: GGP isn't back to its pre-recession levels yet. The stock traded twice as high in 2007 as it does today.