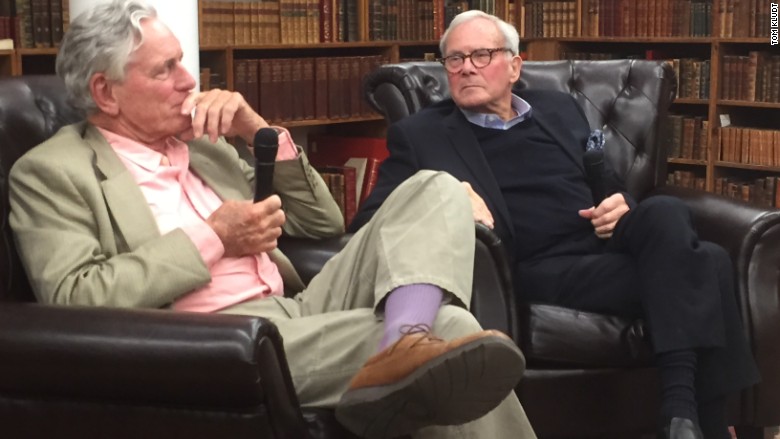 When Tom Brokaw was diagnosed with cancer, he found comfort in the prose of an acclaimed poet.
"I've had an unusual experience," Brokaw said Wednesday night at Strand Book Store in Manhattan. "I was diagnosed with cancer almost two years ago now, and there were a lot of changes to my life as a result of that. I was blindsided by it."
He was conducting an interview with his friend, the writer Thomas McGuane. When an audience member asked him what he's been reading lately, the former NBC News anchor opened up about his 2013 diagnosis with multiple myeloma.
Brokaw recalled reading "Her Garden," written by the former U.S. Poet Laureate Donald Hall as a tribute to his deceased wife. Brokaw said he was so moved by the poem -- particularly the stoic refrain, "let it go, let it go" -- that he reached out to Hall.
"And then I got this wonderful letter back," Brokaw said. "And it started this exchange."
That correspondence spawned another literary friendship for Brokaw with the novelist Ann Patchett.
Brokaw crossed paths with her at the taping of Stephen Colbert's farewell extravaganza late last year.
"Ann Patchett, who I had never met, came and sat down next to me and said, 'I hear you're quite taken with Donald Hall.' I said, 'How did you know that?' She said, 'One of my friends told me. I'm a huge fan of Donald Hall.'
"That has started my new pen pal relationship with Ann Patchett," he said. "And so we're now trading books back and forth."
Brokaw revealed his cancer diagnosis a year ago, saying at the time he wished to keep it "a private matter." By the end of 2014, however, Brokaw said that the cancer was in remission. Earlier this week, Random House announced that Brokaw is writing a book that details his struggle with cancer.
Related: Tom Brokaw to release book on battling cancer
He drew applause from the assembled crowd at the Strand when he said he's "going to be all right."
Following the event, Brokaw declined to comment on reports that former NBC News President Andrew Lack will return to the network. The expected appointment comes weeks after the network was rattled by the suspension of anchor Brian Williams.
After Williams owned up last month to telling an exaggerated story about the Iraq War, Brokaw denied reports that he wanted his "NBC Nightly News" successor fired. Williams is currently serving a six-month suspension without pay amid scrutiny over other questionable accounts he's provided over the years.
Related: Tom Brokaw: I have not demanded Brian Williams be fired
None of that came up during Wednesday's event, which focused on McGuane's new collection of short stories. In his introduction, Brokaw spoke warmly about McGuane.
"So we're very lucky to have him on the American literary landscape," Brokaw said of McGuane. "I'm very lucky to have him as a friend because we both, I think, work on each other as B.S. detectors."