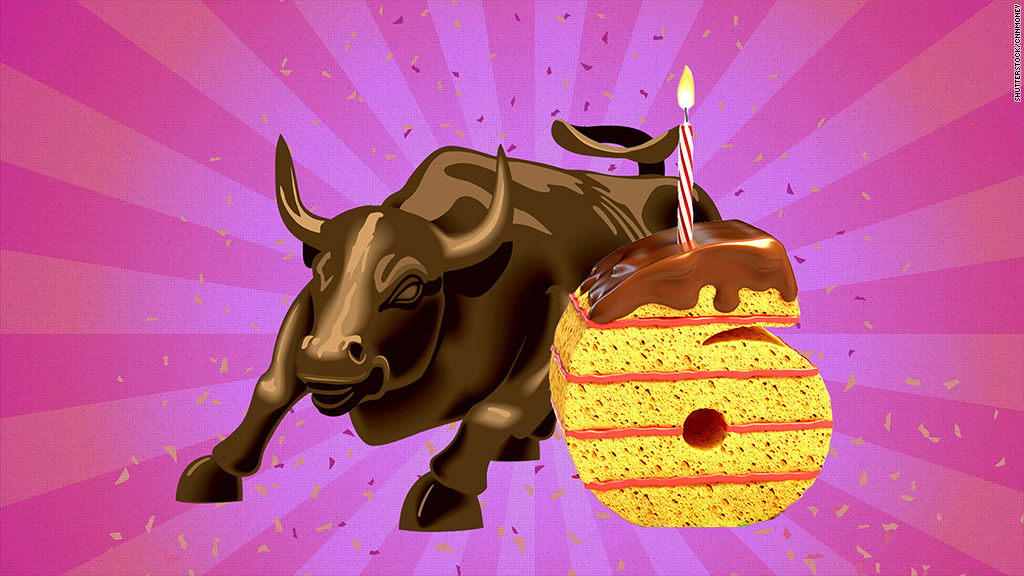 Happy birthday Mr. Bull!
The bull market is celebrating its sixth birthday Monday.
Here are the five things you need to know before the opening bell rings in New York:
1. Watching the Apple Watch: Apple (AAPL), the most valuable company on the planet, is holding an event in San Francisco Monday afternoon where CEO Tim Cook is expected to reveal the last remaining details about the Apple Watch.
Wall Street will be watching the announcement closely, and trading in Apple shares could be more volatile than normal.
Related: Fast facts about the Apple Watch
2. "Making it rain" in Europe: The European Central Bank is "making it rain" as it begins printing €60 billion per month to boost the regional economy and lift inflation.
The stimulus program is similar to the U.S. Federal Reserve's quantitative easing program, which helped lift America out of the Great Recession by pumping money into the economy.
3. Greek debacle continues: Eurozone finance ministers meet again Monday to discuss Greece's future.
The heavily indebted country has proposed a number of measures to ensure it continues to receive loan money from its European partners for the next few months, but the government's proposals have faced criticism for falling short of expectations.
Greece needs the European support in order to keep paying its bills and debts. Otherwise, it could be forced to print its own currency and quit the euro.
4. Stock market overview: U.S. stock futures are shifting lower and European markets are all falling in early trading. Nearly all Asian markets ended with losses.
The mood is negative as investors consider the prospect that the Fed will have to raise rates soon in the light of data showing the job market continues to improve.
On Friday, U.S. stocks took a dive after the government released monthly jobs data for February. The Dow tumbled 279 points. The S&P 500 dropped by 1.4%.
5. Disappointment in Japan: Japan's economy grew at a slower than expected pace in the fourth quarter.
Growth was revised lower to 1.5%, down from an earlier estimate of 2.2%.
The Nikkei dropped 1% Monday.