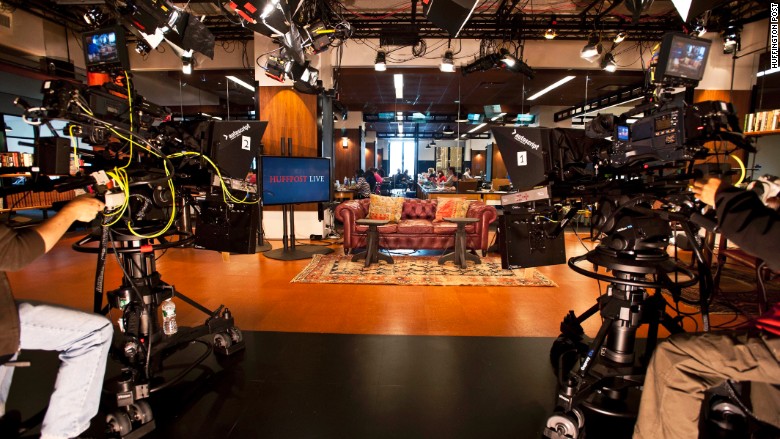 Expect to see more videos when you visit The Huffington Post. A lot more.
The popular news web site, which already has a live streaming channel called HuffPost Live, now says it also wants to make documentaries, scripted shows and so-called "branded entertainment."
It's part of an industry-wide push to make more web video, thereby creating more places for companies to buy ads.
Shepherding the effort will be a familiar face and a new one. Roy Sekoff, the president and co-founder of HuffPost Live, will be promoted to president and chief creative officer of the newly-minted HuffPost Studios. And Nathan Brown will join the site as general manager of video.
The personnel moves were announced in a memo on Monday from editor-in-chief Arianna Huffington and CEO Jimmy Maymann.
"Together, they'll be shaping HuffPost's future in all things video," the memo said of Sekoff and Brown.
Brown, who previously served as general manager of video and TV at Complex Media, said in an email that visitors can expect to see new types of programming on the site.
"We will pursue video in every way: short and long-form, branded entertainment, live programming, scripted, documentaries, TV, features -- and program and distribute that content globally at scale," he said.
Sekoff will be charged with developing and producing some of that programming. According to the memo, he will "lead HuffPost's expansion into long-form video series," a reference to the site's planned original documentaries.
The Huffington Post isn't going into much detail about the plans yet; Sekoff said the site will reveal more at an event for advertisers this spring.
Part of the site's ultimate ambition is to create videos that are widely distributed -- perhaps even through a cable channel. That model has been executed successfully by Vice, which has a documentary series on HBO that just began its third season.
Web sites of all types have been racing to add video, partly in response to consumer demand, partly in response to advertiser demand. That's why The Huffington Post originally set up HuffPost Live in 2012.
The live channel is basically a rolling talk show, taking place 8 hours a day, 5 days a week. It won't be going away -- it will be joined by these new efforts.
Sekoff called HuffPost Live a video "clip-generating machine" for the rest of the web site, as the live-streamed interviews are largely viewed on-demand later.
Related: Huffington Post launching political satire show
Later this month, the site will debut "The HuffPost Show," a live, weekly satirical political program that will be hosted by Sekoff and Marc Lamont Hill. (Hill, a founding host of HuffPost Live, is also a CNN contributor.)
Maymann said in an interview that the site's push for more video extends to its entire staff.
Reporters have lately been urged to include more videos in their stories, and the site is experimenting with new tools that will allow staff members to create video content on the fly.
The Huffington Post intends to hire at least 75 people this year, and just about all of them will be expected to have video skills.
It's part of a strategy that's been dubbed "50/50" internally.
"It basically means 50% video, 50% text," Maymann said. "It's a huge shift in mindset."