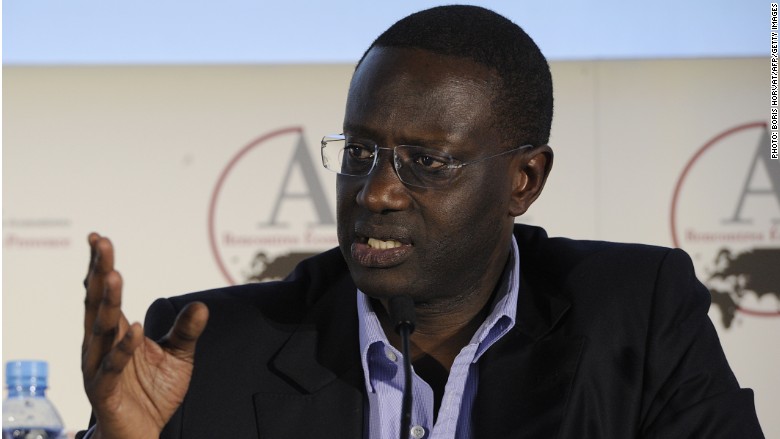 Credit Suisse has named a new boss -- one with no direct experience of banking.
Insurance executive Tidjane Thiam will take the reins when Brady Dougan steps down in June.
Thiam leaves the top job at U.K. insurer Prudential, (PUK) which he held since 2009. Since then he has presided over strong growth in the company's share price.
Educated in France, Thiam worked for management consultancy McKinsey and insurance group Aviva before joining Prudential in 2008. He was also a government minister in his native Ivory Coast.
"His extensive international experience, including in wealth and asset management and in the successful development of new markets, provides a firm foundation for leading Credit Suisse," the bank's chairman Urs Rohner said.
Related: Former JP Morgan banker Bill Winters is back
Rohner told reporters that Thiam's appointment should help the group strike a better balance between wealth management and investment banking.
"We have always said we want to shift the capital allocation, which is now more heavily weighted toward investment bank, to at least 50-50 between wealth management and the investment bank," Rohner said.
"It's clear that with today's announcement ... we may accelerate on that path, because from a strategic point of view our global wealth management business has a very high growth perspective and this is what we want to drive," he said.
Thiam will become the second black chief executive of a global bank, following Stanley O'Neal, who led Merrill Lynch for five years until 2007.
Related: The African politician who conquered big business
Investors liked the news of the management change, and shares in Credit Suisse (CS) shot up more than 8% on Tuesday.
Outgoing CEO Dougan spent a quarter of a century with Switzerland's second biggest bank, including eight years as chief executive, and is one of the few remaining bosses to have steered a bank through the financial crisis.
The bank continues to battle allegations that it, along with others in the industry, issued risky securities ahead of the crisis. It set aside about $280 million last month to deal with legal challenges and investigations in the U.S.
American-born Dougan came under intense pressure last year as U.S. lawmakers investigated the firm over tax evasion.
Credit Suisse agreed to pay $2.6 billion to U.S. authorities for illegally allowing some clients to evade their taxes.
An investigation by the U.S. Senate found that Credit Suisse held as much as $12 billion in assets for 22,000 U.S. clients, up to 95% of which was hidden from the IRS.