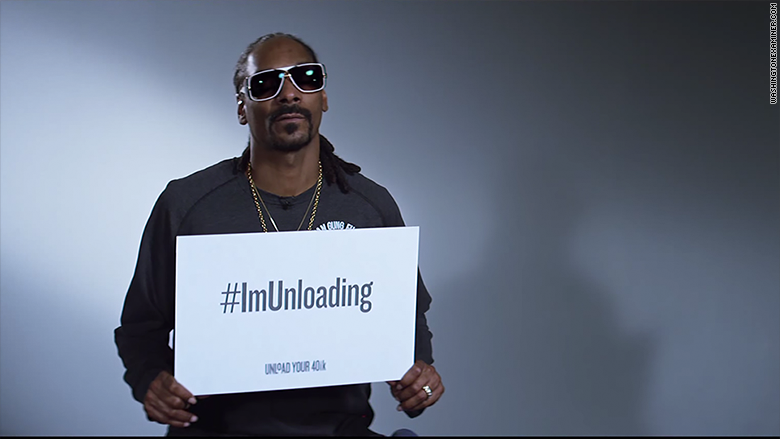 Snoop Dogg, the rapper who once glorified gun violence, is now urging investors to dump all their gun stocks.
The rapper, whose real name is as Calvin Broadus, urges investors to "unload and join the movement" in a video produced by Campaign to Unload and other organizations that oppose gun violence. More specifically, he wants investors to purge their 401(k)s of gun-related stocks.
"How I've been affected by gun violence over the years is through the deaths of friends and family members and associates," Snoop Dogg said in the video, holding a sign that says #ImUnloading. "I'm unloading for the loved ones I lost."
He doesn't mention any specific stocks, but the most prominent publicly traded gun manufacturers are Smith & Wesson (SWHC)and Sturm, Ruger (RGR).
The video also features NBA player Matt Barnes of the Los Angeles Clippers, NFL player Bobby Wagner of the Seattle Seahawks, actress Margot Bingham from "Boardwalk Empire" and Silicon Valley angel investor Ron Conway.
Snoop Dogg might seem like an unusual choice as an anti-gun advocate. He once exalted gun violence through songs like "Bang Out" about gangsters. In 2006 he was charged with felony gun possession. And in the 1990s he was tried -- and acquitted -- of murder charges.
Related: Assault rifle bullet sells out ahead of proposed ban
But Snoop Dogg has changed his tune. Last year, he released a song called "No Guns Allowed," which he produced with Drake and his daughter Cori B. (The B stands for Broadus.) The song contained references to the massacres at Sandy Hook Elementary and Columbine High School.
"Snoop actually came to us," said Jennifer Fiore, spokeswoman for Campaign to Unload. "We're really glad to have him as part of this. It's helping bring awareness to a lot of people who have no idea of the economic power they have to affect this debate on gun violence."
Fiore insists that her organization is not anti-gun and she has no problem with individual gun ownership.
"This is about the corporate gun lobby, not law-abiding gun owners," she said.