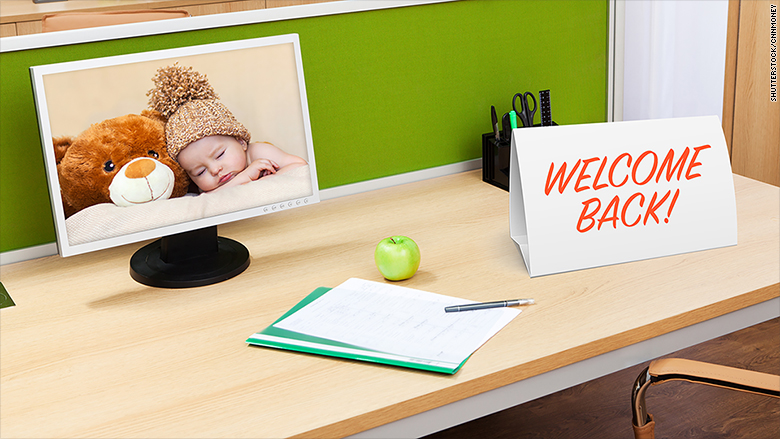 Paula Oliveira remembers lying awake at night, worrying about going back to work and leaving her new baby girl.
"When you've been gone for three months taking care of a baby for 24 hours a day, seven days a week ... it's a very scary thing to have to start being away," said the associate proposal manager for CA Technologies.
But when the time came for Oliveira to return, she was able to ease back into her schedule with the company's two-week "phase back to work" program. All new parents can transition back into work at a 50% schedule the first week and 75% the second week, at full pay.
"You get your feet wet with the separation," said Oliveira. "You start to get used to it ... by the third week you are in a regular routine."
The transition back to work can be hard for new parents, with the first six months being a critical time for retention, according to Laura Sherbin, executive vice president at the Center for Talent Innovation.
"This is the time that companies need to step in with interventions to make sure [the return] is working." She added there's a high correlation of women dropping out of the workforce after the second child.
Last week, Vodafone announced it will offer at least 16 weeks of paid maternity leave, a significant benefit for its U.S. employees, where there is no federal mandate for paid time off for new parents. Only 12% of companies offer paid maternity leave, according to the Society for Human Resource Management (SHRM).
Such generous parental leave policies aren't common in the U.S., but they're not unheard of. What's also notable about Vodafone's policy is that returning mothers can work a reduced schedule for six months at full pay.
"It's an amazing step in the realization that 'it's all or nothing' doesn't work when going from maternity leave to going back to work," said Sherbin.
In addition to a transition period, companies can offer different options, like flexible work schedules, child care assistance and teleworking to help keep new moms in the work place.
Related: Top companies for women execs
The Obama Administration has been advocating for employers to offer paid time off, whether it's for the arrival of a new child, sick leave or family care. A senior White House official pointed out that female labor force participation has slowed over the last two decades, in part due to a lack of policies to help balance work and family life.
When it comes to creating and implementing family-friendly policies, Ariane Hegewisch, study director at The Institute for Women's Policy Research advised policies be open to all workers to avoid creating a "mommy track" that makes women hires seem more expensive long-term than male workers.
"You don't want to load up companies with huge costs associated with women of a certain age," she said.
Lisa Horn, director of congressional affairs at SHRM, said 1% of its members allow babies to come to work and 26% permit workers to bring children to work in an emergency.
The cost of child care can make it financially unpractical for a parent to return to work. Subsidized child care is offered at some CA Technologies offices to help ease the separation and reduce the cost burden. The company also offers teleworking, which allows Oliveira to work from home two days a week.
Talent retention programs can bring significant savings to a company. For instance, it costs PricewaterhouseCoopers around $120,000 every time someone leaves the company, according to Diversity Strategy Leader Jennifer Allyn. To help with retention, the firm offers a telecommuter program, flexible work arrangements and six weeks of paid time off for men and women after the birth or adoption of a child.
New moms at PwC can also negotiate with their managers to create a plan to phase back into a work schedule that fits the needs of the worker and teams, according to Allyn.
Returning moms can also choose to skip that year's review process. "The notion of comparing someone working a full year to someone who was out for 16 weeks isn't an apples to apples comparison," said Allyn.
PwC also has a Mentor Moms program that allows a new mom to pair up with another working mom in the company. "New moms want to talk to other moms about how to make it all work; how to juggle work and motherhood. It's a new identity being a new mom and a new working mom."