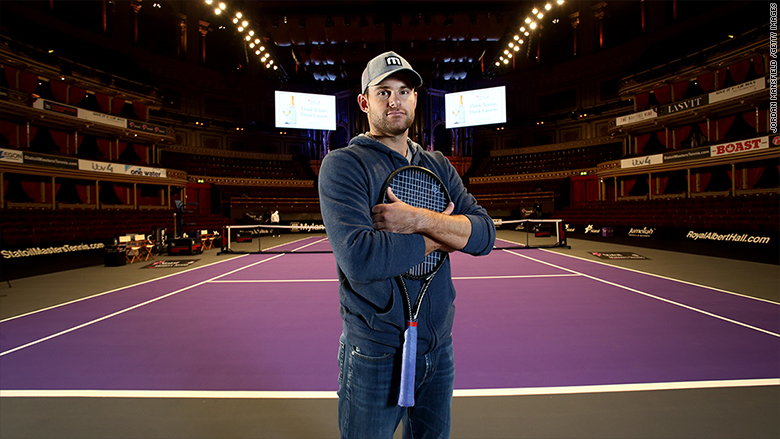 Pro athletes are known for investing in flashy things like restaurants, night clubs and car dealerships.
This go-big-or-go-home mentality was never one that appealed to tennis superstar Andy Roddick.
"You see, athletes invest in passion plays a lot. They like to have something to take a friend to," Roddick told CNNMoney.
The former Grand Slam singles champ is known for an aggressive playing style that features a lightning-fast serve and a rocket forehand. But his investing philosophy is far more conservative.
"A lot of people my age are trying to hit a home run in a year or two," Roddick said. "I don't really base investing on the upside. It's more along the lines of: Worst-case scenario, are you still okay?"
He blamed investors' impatience on today's culture of instant gratification.
"Whether it's Twitter (TWTR), Instagram or Netflix (NFLX), you have everything yesterday. Everything is at your fingertips. It doesn't really work that well" with investing, said Roddick.
Related: Millennials are scared to invest
Capitalizing on real estate: So where is Roddick the patient investor putting the $20 million in prize money he racked up during his storied playing career?
He said he's been investing in a lot of "long plays," especially commercial real estate.
For example, Roddick is a fan of the steady monthly cash flow offered by triple-net lease agreements, which require tenants to pay for rent as well as taxes, insurance and maintenance.
These rental streams offer investors a way to play the recovering real estate market without taking on the hassle of dealing with repairs and tax payments. However, landlords do face risks associated with interest rates, tenant bankruptcies and finding new tenants when leases expire.
"That may be a boring thing to tell your friends, but it's served us well," said Roddick, who last year joined the PowerShares Series, a tennis circuit that lets him play with legends like Andre Agassi and Pete Sampras.
Roddick said he's also padding his paycheck by moving over to the "dark side of media." Rather than jumping into the booth at the Tennis Channel, he was hired by Fox Sports 1 to talk about all things sports as a co-host of Fox Sports Live. Roddick even got to drill his co-hosts with tennis balls on national television.
"The tennis guy doesn't normally get a national stage to cover all sports," he said.
Related: Univision owners look to cash out with IPO
Starting early: Unlike other millennials that have shunned investing, Roddick, who is now 32, had the luxury of building his portfolio early.
The 2003 U.S. Open champ credits his father and his business partner Phil Myers with guiding him through the investing process and setting up an infrastructure for him as young as 17 or 18 years old. Roddick started becoming actively involved when he was around 25.
"The best piece of advice my dad ever told me was to surround yourself with smart people and ask a lot of questions," Roddick said.