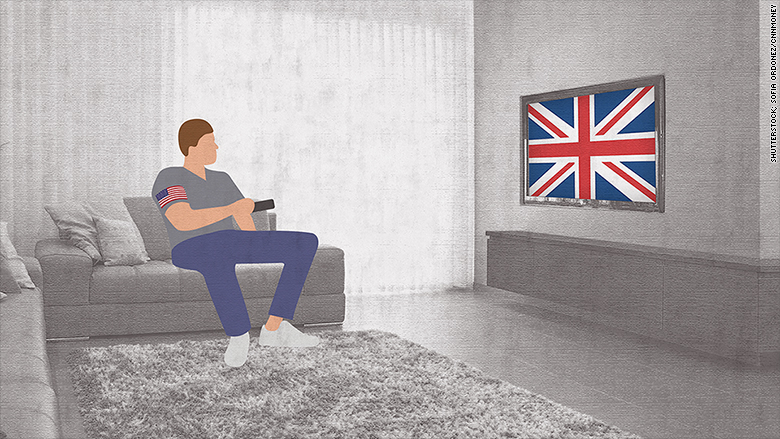 If you watch television in America, you're probably a fan of British TV -- and might not even realize it.
U.S. audiences have long enjoyed programs from across the Atlantic. The recent success of "Downton Abbey" and "Sherlock" has only reinforced Britain's dramatic credentials. But non-scripted shows are quietly generating even more hits for U.K. producers.
British TV exports to the U.S. rose 10% to more than $800 million in 2013/14. A good chunk of that figure was for non-scripted programs.
The industry makes more money selling lifestyle and reality formats to the U.S. than big budget dramas, according to John McVay, chief executive of U.K. trade group Pact.
Related: HBO Now will stream on Apple devices
Britain has an impressive history of developing formats that click with viewers. Two of America's highest profile and longest running reality shows, "American Idol" and "Dancing With The Stars," were based on U.K. programs.
McVay said Britain enjoys a reputation as the research and development lab for global TV. That rests on an industry culture that supports the creation of original content.
If a show works in Britain, there's a good chance it will work in the U.S., said Stephen Lambert, who created popular exports such as "Undercover Boss" and "Wife Swap." He's the chief executive of Studio Lambert, a U.K. production company owned by All3Media.
Related: 5 impressive stats about Top Gear
The U.K. tends to produce shorter series -- often just 6 episodes instead of 26. That means more new programs face the audience test on British screens. American networks can then swoop in and snap up the best performers.
"We have a buying community that is very disposed to buying an original idea," Lambert said. "In America it's much more important that you have a hit, doesn't matter where it came from."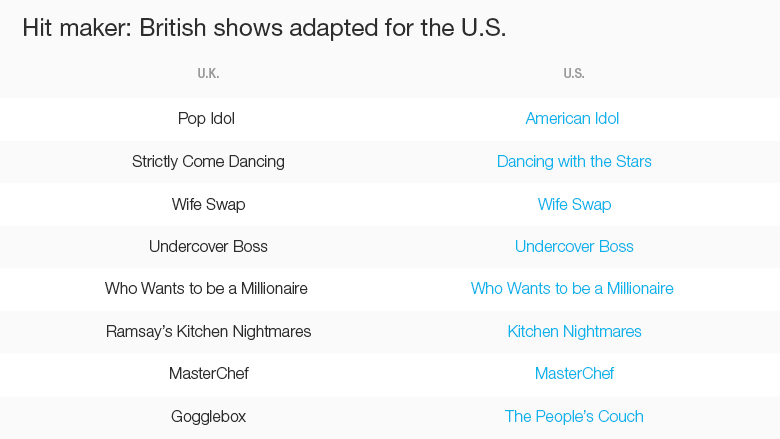 One of Studio Lambert's latest hits is "Gogglebox," a show that manages to turn people watching TV into ... entertaining television. Lambert said part of its appeal lies in making audiences feel they're part of something happening now -- as the big talent quests do.
The U.S. pounced on the idea and its version -- "The People's Couch" -- has run on Bravo since 2013.
Format-based TV isn't the only British export connecting with American audiences. As the world's second largest TV producer behind the U.S, the U.K. is one of the biggest winners in the new golden era of television.
Global appetite for quality TV, coupled with the growth of new platforms like Netflix (NFLX) and Amazon (AMZN), is creating a lot of space for British programming.
Related: Kate Middleton to visit Downton Abbey's servants
Michele Buck, founder of production company Mammoth Screen, said U.S. interest in British TV has grown in the last few years. Buck, whose credits include "Hornblower" and Benedict Cumberbatch wartime drama "Parade's End," said the renaissance is being led by award-winning scriptwriters such as Downton's Julian Fellowes.
Downton has made a huge splash in the U.S, collecting a clutch of Emmy's and proving a ratings smash for PBS. It's the broadcaster's top rated drama ever.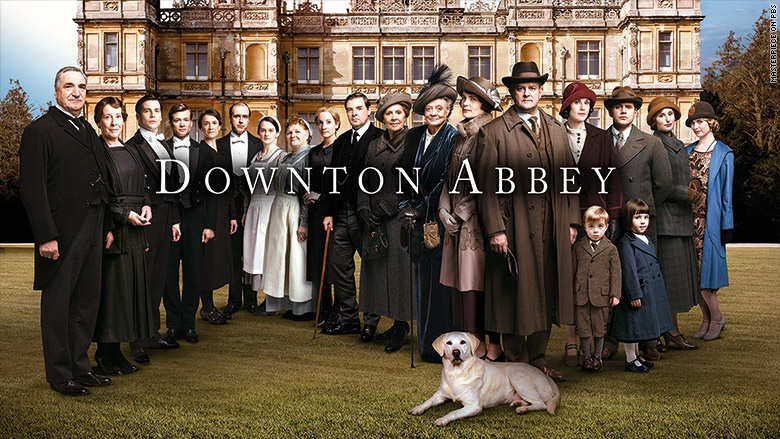 As drama attracts more global interest, U.K. and U.S. production companies are increasingly working together. Mammoth Screen is working with the Weinstein Company on a detective drama set in ancient Egypt called "Book of the Dead."
A tax break for high-end scripted shows produced in the U.K. is also encouraging Americans to shoot in Britain. "Game of Thrones" was one of the beneficiaries.
And there's more British flavor here: Netflix's smash hit "House of Cards" was based on a U.K. mini series of the same name.