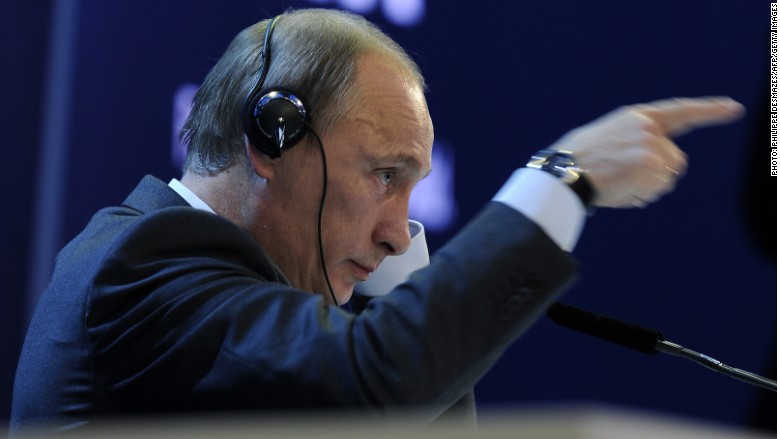 Russian President Vladimir Putin has dropped his American PR company.
Ketchum, part of global marketing group Omnicom (OMC), worked for the Russian government for nine years. But that relationship is now over, apparently a victim of the growing hostility between Russia and the West triggered by the conflict in Ukraine.
"We decided not to renew the contract because of the anti-Russian hysteria, the information war that is going on," Putin's spokesman Dmitry Peskov told CNNMoney.
Ketchum said it no longer represents Russia in the U.S. or Europe but will keep an office in Moscow. It declined further comment.
The firm was hired by Russia in 2006 -- ahead of the G8 summit in Saint Petersburg -- to help the Kremlin reach Western media.
Its biggest success was a controversial opinion piece in The New York Times written by Putin himself. The 2013 article criticized "American exceptionalism," and sparked a media backlash against the agency.
Related: Ukraine hires internet army to fight Russian trolls
Ketchum charged Russia nearly $30 million for its services over nine years, according to company filings with the U.S. Department of Justice.
The filings show how Ketchum reached out to western media, including Bloomberg, The Wall Street Journal and Washington Post, to promote a summit of the BRICS -- Brazil, Russia, India, China and South Africa.
Ketchum was also involved in campaigns promoting the Sochi Winter Olympics and Russia's membership in the World Trade Organization.
"If you spend a lot of money on communication, you want it to be fruitful -- and that is not possible in this hateful environment," Peskov said.
Ketchum's work for Russia had already fallen off sharply. The firm made $1.5 million from its campaigns for the government in 2013, and just half that in 2014.
A separate contract with Russia's Gazprom (GZPFY) is still running, although the firm didn't bill the state gas giant for any work in the six months to November 30, 2014. Ketchum has received about $30 million from Gazprom since 2007.