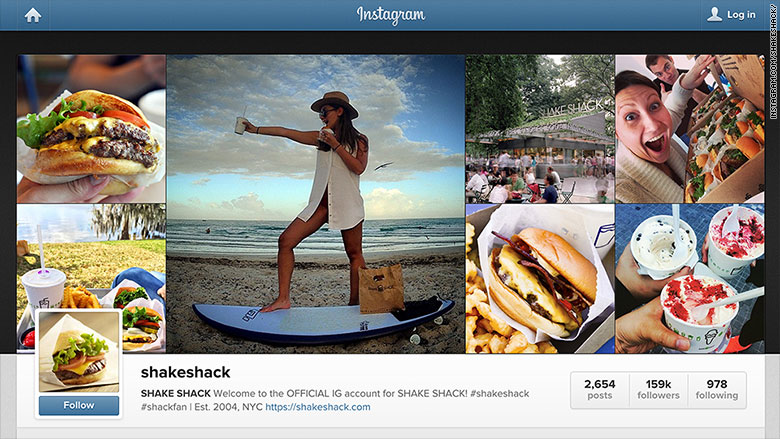 Plenty of people have compared the burgers at Shake Shack, McDonald's and Wendy's. They judge the beef, the bun and the quality of the condiments.
But here's the metric that might matter most: Which fast food chain has the biggest Instagram following?
The photo sharing app is a good gauge of how much love millennials have for a brand. When young people are willing to snap a photo of themselves digging into a burger and fries and share it with their friends, it's a huge win for a restaurant.
One thing is clear when you look at Instagram: the new kids on the block adore Shake Shack (SHAK), the New York City burger brand that is just over a decade old.
The small chain already has 159,000 Instagram followers. Teens and 20-year-olds post photos of themselves lining up to get their burgers and then posing victoriously with their trays. One photo in the last week even shows a young woman on a surf board while holding a Shake Shack burger and drink.
You can't buy that kind of publicity.
Related: Want to be a CIA spy? Be careful on Facebook
Shake Shack's Instagram following is so large that it already has more than Wendy's (WEN) and nearly as many as Burger King.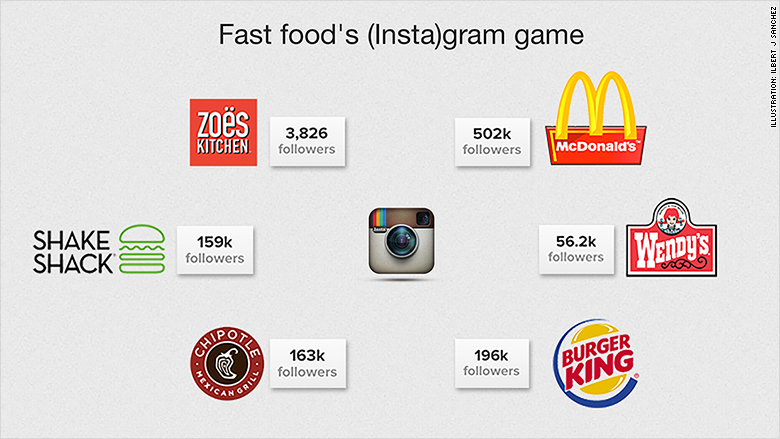 While it's true that McDonald' (MCD)s has half a million Instagram followers, that doesn't look so hot when you think about how many restaurants McDonald's has around the world.
Shake Shack only has 63 stores versus over 36,000 for McDonald's.
Related: McDonalds to put kale on menu?
Why it matters: Investors are beginning to take notice. As McDonald's has struggled with slumping sales, investors are looking for clues about where the world's tastes (and dollars) are going.
While Instagram followers isn't exactly a financial metric, it's a decent way to think about growth potential.
Consider this: Shake Shack has 2,520 Instagram followers per store while McDonalds only has 13. Perhaps it's no surprise that SHAK stock soared on its IPO day in late January. It has had a rocky ride since but is now back above its IPO closing day price.
McDonald's stock, meanwhile, is roughly flat in the past year and still trying to regain momentum with a new CEO.
Other Instagram winners: While Shack Shake is in a league of its own in the "(Insta)gram game," other new fast food chains are way ahead of the old guard too.
Chipotle (CMG) has 91 followers per store, or seven times higher than McDonald's. Even Zoe's Kitchen (ZOES), another niche chain, has 27 followers per store.
Poor Wendy's, which has 6,000 more restaurants, comes in with a 8.6 ratio. That's trounced by Habit Burger (HABT), the small Santa Barbara-based chain that's starting to branch out more across the nation.
Consumer Reports even named Habit the best fast food burger last year. That may explain why it has 42 Instagram followers per store.
Yet another page in the "whose burger is best?" saga.