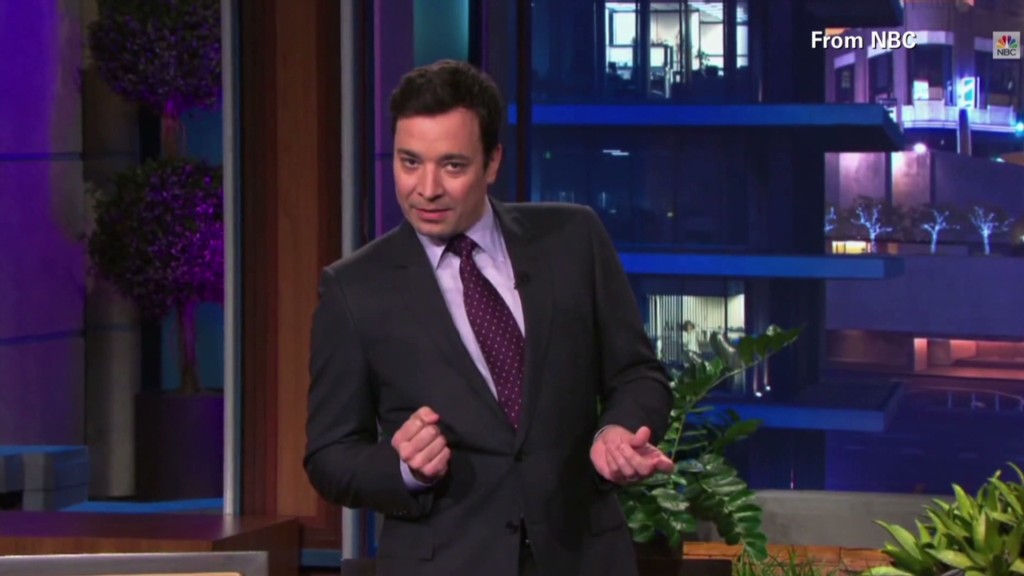 Historically, late-night TV shows have only had one gauge for what's working and not working: Nielsen ratings.
Now they have a second: social media.
Gavin Purcell, the executive producer of "The Tonight Show with Jimmy Fallon," says online metrics can even give new life to sketches that might otherwise never be tried again.
Speaking at the South by Southwest conference in Austin on Friday, Purcell mentioned that the show's "Wheel of Musical Impressions" owes a lot of its success to YouTube.
The show tried a "Wheel of Impressions" with Dana Carvey last July; it received about 3 million views on YouTube. When it tried again, with guest Adam Levine and a lyrical focus last September, it went viral and racked up 23 million views.
The sketch was so successful that it's now it's part of the "Tonight Show's" stable, with host Jimmy Fallon and guests attempting impressions of iconic singers while belting out strange songs. Another edition with Christina Aguilera in February pulled in 28 million views. 
"We see YouTube as a way to get what we're doing on TV to more people," Purcell said. "We always have to be future-proofing."
There's been talk lately about NBC trying to make more money from online views; earlier this month the Wall Street Journal reported that the network is planning a "subscription comedy video service" that would give access to full episodes of Fallon's show and others.
NBC hasn't announced the service yet. But NBCUniversal CEO Steve Burke recently said "we think about 70% of the views of Jimmy Fallon and The Tonight Show occur online and that the majority of those views are un-monetized," and added, "That's not going last forever."
It is clearly a transitional time in late-night television. With two comedy icons -- David Letterman and Jon Stewart -- stepping down later this year, the late-night wars are adjusting to a new digital landscape.
There's no doubt that television ratings still matter most, but social reach and digital views now count for something, too.
Surely ABC executives and the White House press aides have noticed that President Obama's reading of "Mean Tweets" on Thursday night's "Jimmy Kimmel Live" has garnered more than 4 million web views, as of Friday afternoon.
At the same time, Purcell stressed that "The Tonight Show" staff isn't trying to go viral and go home -- they're "trying to make good TV."
"We are TV people first and foremost," he said. "That's our bread and butter."