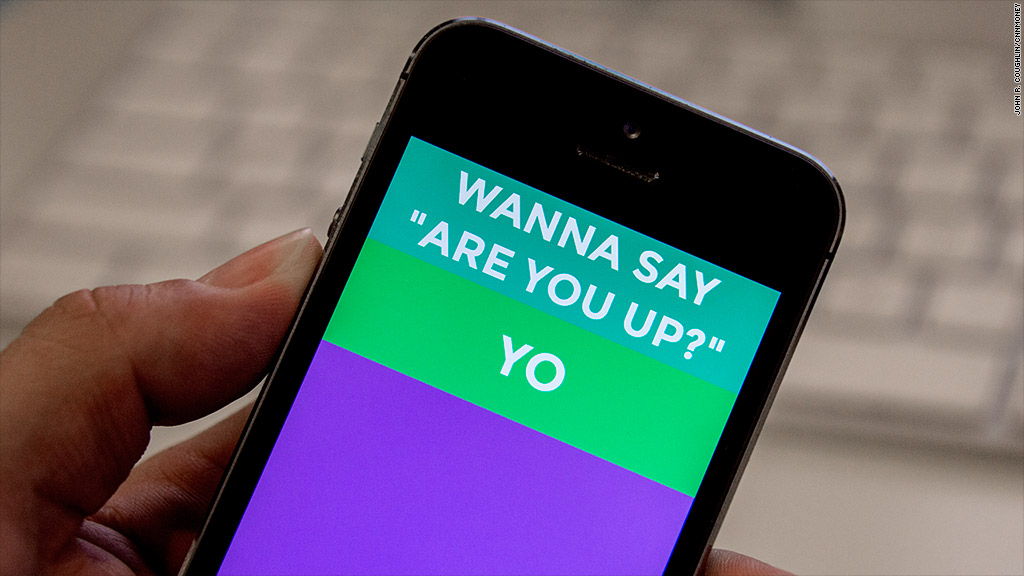 Yo, do you remember Yo?
It's the app that lets people interact by sending a simple word -- "Yo" -- and (perhaps infamously) captured $1 million from investors last summer?
Well, it's still around. And its new products are starting to show just what investors were thinking when they backed it. After all, the brand is much more than just a way to ping your friends. It was never meant to be solely a personal messaging service, said founder and CEO Or Arbel.
Since its launch, Arbel has been building out Yo's services (like letting users Yo their location to friends) and positioning the app as a powerful platform for brands to reach that almighty consumer.
Earlier this year, Yo unveiled its Yo Store, which lets users opt-in to receive notifications from their favorite brands. Think of it like push notifications about everything from sports teams to cat pictures to breaking news and celebrity gossip, according to Arbel.
Arbel told CNNMoney that Yo will unveil an Apple (AAPL) Watch offering -- tentatively called Yo Bytes -- in April. The product will allow brands to create and send notifications directly to consumers once the smart watch debuts in April.
"The watch is about notifications -- and we are about notifications" said Arbel. "We always knew we were looking for something bigger."
The new Yo Apple Watch service, which Arbel said they're currently developing, will make it easy for third parties to craft captions and upload photos that are sent as Yo push notifications on the watch. This will mean they don't have to build their own app for the Apple Watch.
"We are going to give them a way to be on the watch from day one," said Arbel.
Yo currently has 150 brands in its store, which includes media outlets like BuzzFeed (which has the most subscribers, according to Arbel, though he declined to disclose numbers), Huffington Post, and USAToday.
"Yo gives great power to send push notifications to everyone," he said. "It's the easiest and fastest way to communicate."